Install Windows 7 / Windows 8 / 8.1 on your laptop or PC. You can install a new setup of Windows 7 / 8 OS through USB flash drive or DVD. In the latest Windows laptop device has not supported DVD ROM so you can only install new operating system using make pendrive bootable Windows 7 / 8.
You can also use Windows USB DVD tool to create a copy of your Windows 7 / 8 ISO files on a USB flash drive or a DVD. Using this two different methods to make pendrive bootable Windows 7 / 8 or Windows 10, you can easily install Windows 7 / 8 / 8.1 from the USB flash drive / DVD.
Don't Miss This:
How to upgrade Windows 7 to Windows 10 Pro free
How to turn on Wi-Fi on Windows 7 PC
How to change keyboard layout in Windows 10
How to connect Bluetooth speakers to Windows 7
How to make Pendrive Bootable Windows 7 / Windows 8 / 8.1
Method 1: Make bootable pendrive using ISO file
Step 1: Download & install power ISO file on your computer or laptop device
Download PowerISO v6.5 (32-bit)
Downlaod PowerISO v6.5 (64-bit)
Step 2: Open Power ISO on PC / laptop
Step 3: Tap on "Tools" menu and click on the "Create bootable USB drive"
Sometimes you can see this message if not Administrator: In order to use this function, you need run PowerISO as administrator. Do you want to continue?
Step 4: Tap on "OK"
Step 5: You can see the Create bootable file or compact disc dialog box
Step 6: Select source image iSO file
Step 7: Select destination USB drive from list
Step 8: Select write methods from USB-HDD / USB-ZIP / USB-FDD / Raw wright
Step 9: Tap on "Start button" to make pendrive bootable wino
You can see the message: All data in the USB drive will be overwritten. Do you want to continue?
Step 10: Click on "OK"
Now process start to writing your USB drive, after complete bootable process see the dialog box of PowerISO: Writing USB drive completed successfully.
Step 11: Press "OK" button
Step 12: Tap on "close" button
Method 2: Make bootable USB pendrive using Windows USB / DVD download Tool
Step 1: Click here to download Windows USB / DVD download tool
Step 2: Install on your laptop or tablet & open it
Step 3: Tap on "browse" & upload Windows 7 files
Step 4: Choose the media types would you like to make USB pendrive bootable or burn to DVD
Step 5: Tap on "USB device"
Step 6: If your USB device is not detect click "refresh" icon and select your USB device in the drop-down list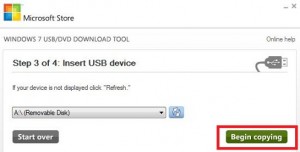 Step 7: Click on "Begin copying"
After complete the copy of ISO files to your USB drive, install Windows 7 using bootable USB pendrive.
That's all.
Did you find the above process to make pendrive bootable Windows 7 laptop or PC helpful? Don't hesitate to let me know on below comment box. Would be a pleasure to help you. Share this article with your friends on Facebook, Twitter and Google plus.