If in your Windows PC or laptop has problem to connect via any Wi-Fi network. Then first of all check the wireless connectivity settings enable or not on your Windows 7, Window PC or laptop. Let see the steps of how to turn on WiFi in Windows 7 or Windows PC. First of all set up a wireless connection on your Windows PC. Using Wi-Fi, you can easily search or surfing the web on your Windows PC / laptop in the range of Wi-Fi. We have use wifi network at homes, office, business places, Hotels etc.
It's simple to Turn on WiFi in Windows 7 or Windows PC. Wi-Fi is useful to direct connect computer to another computer without access point. You can also use wifi as wifi hotspot on your android mobile or tablet. Regularly update or change wifi password to secure against unknown users. Follow below given steps to turn on Wi-Fi in windows 7 / Windows PC / laptop.
You might like this:
How to enable WiFi in Windows 10
How to delete recycle bin in Windows 7 / 8 /10
 How to transfer contacts Android device to PC
How to turn on WiFi in Windows 7 or Windows 10 PC
Step 1: Go to "Start Menu" on your Windows 7 PC / laptop
Step 2: Tap on "Control Panel"
Step 3: Open "Network and Internet" category
Step 4: Tap on "Network & Sharing Center"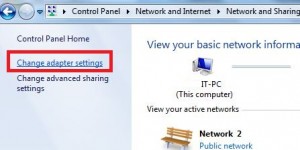 Step 5: In top left side, tap on "Change adapter settings"
You can see the "Wireless Network Connection" is disabled
Step 6:  Right click on the local area connection and "Enable" it to enable wifi in Window 7 / Windows PC
Now your Windows PC connect to a Wi-Fi network of Network and Sharing center.
Read Also: How to set up Mobile hotspot on Windows 10
Above you can see the complete process to turn on WiFi in Windows 7/ Windows PC. Did you find the above process to turn on Wi-Fi in Windows PC helpful? Please let us know below comment box and connect with us for daily latest technology updates!