Last Updated on March 7, 2021 by Bestusefultips
Want to change default keyboard input language in Windows 10? Here's how to change keyboard layout in Windows 10 PC. You can add a keyboard you want in your Windows desktop such as US (QWERTY), United States (Dvorak), Dutch, Denish etc. Also change keyboard language shortcuts in Windows 10/8/7.
We already discussed about change Windows display language. You can add a keyboard layout using time & language settings. Add your favorite input languages to your Windows or laptop such as HP, Dell, Asus, Samsung, Lenovo etc. Follow below given step by step process to set or change keyboard layout in Windows 10 PC.
You may interest this:
How to install new language on Windows 10
How to make pendrive bootable Windows 7
How to pause updates in Windows 10 up to 35 days
How to change keyboard layout in Windows 10 Desktop
You can change default keyboard language in windows 10 PC or laptop using below given process.
Step 1: Tap Windows symbol from bottom left corner
Step 2: Tap Settings gear icon
Step 3: Tap Time & language
Several settings appear here including date & time, language, region, and speech settings.
Step 4: Tap Language
Here you can see installed language pack list.
Step 5: Select language you want to change keyboard language shortcut or keyboard layout
Step 6: Tap Options
Step 7: Tap + Add a keyboard at the end of the page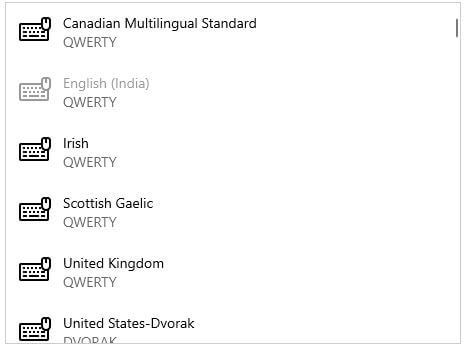 Step 8: Select keyboard from list
Now add a new keyboard layout in your Windows 10/8/7 devices. Add multiple keyboards you want.
Quickly switch input language in Windows 10
Step 1: Left click on ENG from taskbar or Press Windows key & space
You can see Language preference settings and other install keyboards.
Step 2: Select keyboard language you want to set
Also switch language from windows 10 log in screen in your laptop or PC.
And that's it. I hope above given settings useful to change keyboard layout in Windows 10. Do you still have any question regarding this tip? Tell us in below comment box. Don't miss out our other Windows 10 tutorial.