Last Updated on March 7, 2021 by Bestusefultips
Watching YouTube videos on your device and suddenly get YouTube streaming problems on Android phones. You can see various video streaming problems such as YouTube buffering or lagging, playback error, video loading but not playing, server connection lost and video is unavailable. The quality of your home network can mostly affect the videos that will play on your android phone. If multiple devices are streaming videos or using the network at the same time, you may run into some buffering issues.
It's easy to prevent YouTube video freezing problem on android device. To watch YouTube videos without loading, you must need a good and fast internet connection on your android phone or Chrome browser if using a PC or laptop. Mostly if your internet speed is slow, YouTube videos may load slowly or re-buffer. Below you can see useful tricks to fix your YouTube video streaming problems on Android phones.
Read Also:
How to Fix YouTube Video Streaming Problems on Android
Check out below given possible solutions to fix video streaming issues on YouTube Android phone or tablet devices.
Check the Internet if YouTube Video Not Playing on Android

First of all check strength of your internet connection. If a low network, the video will not load properly and maybe freeze. Turn mobile data on and off on your Android device. If possible use a WiFi connection to avoid buffering or Youtube video loading problems.
Restart your phone
Long press the power button and tap restart to reboot your phone and check to fix this issue.
YouTube App Update
Open Play Store > Three horizontal lines at the top right corner > My apps & games > Update all
Clear the YouTube Search and Watch History

Delete or clear all YouTube search history and watch history. Restart the YouTube app.
YouTube App > Profile icon  at the top right corner > Settings > History & privacy > Clear search history > Clear search history
YouTube App > Profile icon  at the top right corner > Settings > History & privacy > Clear watch history > Clear watch history
Clear YouTube App's Cache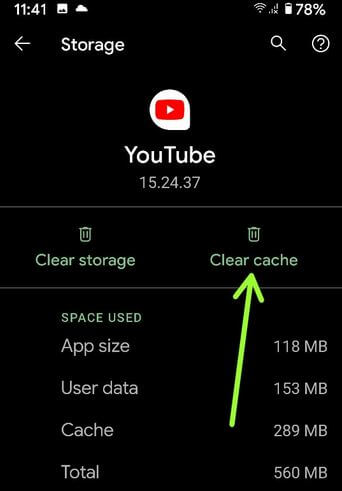 Settings > Apps & notifications > See all apps > YouTube > Storage & cache > Clear cache
Change YouTube Video Quality to Fix YouTube Buffering issue

If you have a slow internet connection, you can change YouTube video quality to fix buffering issues on your Android device using the below settings. You can choose YouTube upload video quality from auto, 144p, 240p, 360p, 480p, 720p.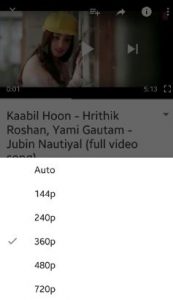 Open YouTube > Play any video > Three vertical dots at the top right corner > Quality > Choose the video quality you want to set
That's it. I hope the above-given tricks help to fix YouTube video streaming problems Android phones and help to solve YouTube buffering problems also. Do you have any alternative methods? Share it with us below the comment box. Don't forget to share this article with your friends.