Last Updated on March 7, 2021 by Bestusefultips
Annoying by media is not downloading in WhatsApp Android? Here's how to fix WhatsApp media files not downloading on your Android phone. By default set auto-download media files on your WhatsApp Android or iPhone. You can change WhatsApp media settings for automatically download photos, videos, audio, and documents on your phone. Several users facing the issue of unable to download videos and photos from the WhatsApp web.
Read Also:
How to Fix WhatsApp Media Files Not Download on Android phone
First of all, we have to see the most common problems that can cause problems with downloading or sending/receiving photos, videos, and voice messages.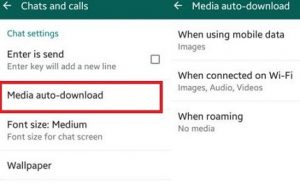 Check Internet Connectivity
Check your device internet connection is available. Also, check your phone is a full range of particular Wi-Fi and another network because large files take time to download. Also, try another cellular data or hotspot to downloading media files.
Check Device Storage Full
Check your device SD card space is not full. Find the unnecessary files and apps and delete them from your android phone and download WhatsApp media files again.
If not the problem of space then check the SD card is corrupted, try this SD card to another phone, and check again. If not work, format the SD card but remember once format SD card you will not get back your data. Before format SD card back up your WhatsApp data.
After format, restart your android device. No check this WhatsApp media files error solved or not.
Check Date & Time
Make sure your phone date and time are set correctly. If the date is not set correctly, you will not connect your phone to the WhatsApp server so not download media files.
We hope one of the above-given methods help to fix WhatsApp media files not downloading on Android smartphone. Do you have any alternative methods? Share with us in below comment box.