Last Updated on May 7, 2020 by Bestusefultips
Here's how to reset a locked android phone if forgot password, pattern lock, or PIN. You can try different ways such as unlock the android device using Android device manager, Find my device app, reset your android device, and use android recovery mode to wipe cache/factory reset, or hard reset device and set a new PIN.
To protect our device against the unknown users, set fingerprint lock or PIN. But if you forgot PIN/Pattern lock/Password then you can't unlock an android phone or tablet. If you can't unlock your android phone or tablet, set up a new screen pattern or PIN using Google account. Try below-given troubleshooting steps to unlock the android phone if forgot PIN/Pattern lock.
Read Also:
Forgot Lock Screen Pattern, PIN, or Password? Here's How to Unlock Android Phone or Tablet

Check out below given possible ways to reset the lock screen password or PIN on your Android devices.
Unlock Forgotten Password, PIN, or Pattern
Step 1: Open the Android device manager on your device.
Step 2: Sign in your Google account, you can see the below screen on your PC or laptop.
Step 3: Tap on the "Lock" icon.
You can show it below the screen.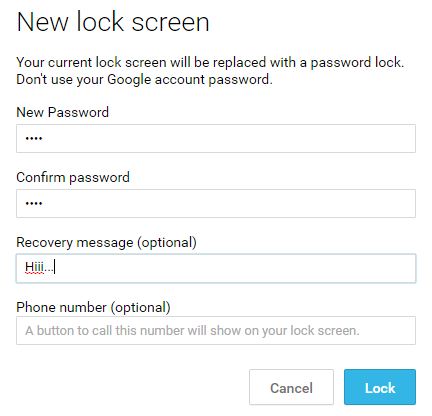 Step 4: Enter a new password and again enter a password to confirm.
Now, your current lock screen pattern will be replaced with a new password you enter. You can also add a message and mobile number (both are optional) if shown on your lock screen.
Step 5: Tap on "Lock".
You can see this message on your phone: Your phone locked by the android device manager. Now you can change this password or PIN using security settings on your android nougat 7.0 and marshmallow device.
Forgot Android lock screen pattern/Reset pattern lock on Android 4.4 or lower
Step 1: When you draw 5 times an incorrect pattern on your android device, you can see the "Forgot pattern" on the phone screen.
Step 2: Select "Forgot pattern"
Step 3: Sign in your Google account which used in your android device.
After logging into the Google account, the pattern will be unlocked.
Step 4: Reset your phone screen lock if you change it.
Use "Find my mobile tool" to unlock your Samsung Galaxy

Step 1: Click here to open Samsung find my mobile.
Step 2: Sign-in or create a new Samsung account.
After registering your phone, you can view your phone number left-hand sidebar to find my mobile.
Step 3: Tap on "Unlock my screen".
Step 4: Select "Unlock" and wait until the process finishes.
Step 5: You can see notification of "The screen is unlocked. Set up the screen lock on the device"
Factory Reset your Android Device if Turned on device

Before resetting your android phone, backup your phone data.
Settings > Personal > Backup & reset > Factory data reset > reset phone > Erase everything
That's all. I hope the above-given ways solve your issue of unlocking the android phone if forgot PIN/Pattern. Did you find the above steps helpful? Let us know on below comment box. If you have known other easy trick to recover forgot android password then please share with us.