Last Updated on March 7, 2021 by Bestusefultips
Want to quickly access settings from any screen on Android 9 Pie? Here's how to turn on accessibility service Android 9 Pie devices. Using this android accessibility service, you'll quickly access several settings such as Assistant, media volume, notifications, screenshot, Accessibility settings, recent apps, and more. When turning on the accessibility menu, you can see accessibility icon on the bottom right corner of your device. This will provides a large on-screen menu to control your phone. You can control gestures, hardware buttons, navigation, and more.
Read Also:
How to Turn On Accessibility Service Android 9 Pie
To use accessibility feature on Android Pie 9.0, check below given settings in your phone.
Step 1: Swipe down the notification panel and tap the Settings gear icon.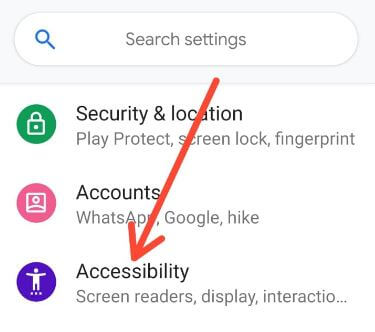 Step 2: Scroll down and tap Accessibility.
Step 3: Tap the Accessibility menu under the Interaction controls section.
By default disable accessibility service on your android 9 Pie and other devices.
Step 4: Toggle on "Use service".
You can see a pop-up message on the screen: Use accessibility Menu?
Step 5: Tap OK to activate it.
Now you can see the Accessibility icon (Show above screenshot) at the bottom right corner on your device.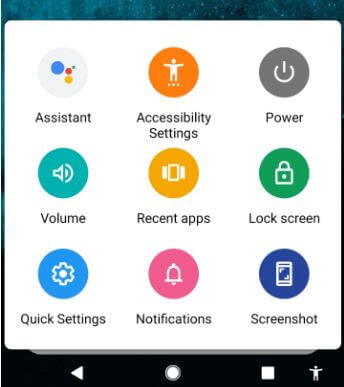 Step 6: Tap Accessibility icon and you can see several settings for quick access from any screen.
Turn Off Accessibility Menu on Android 9 Pie
Step 1:  Go to Settings > Accessibility > Interaction controls > Accessibility menu
Step 2: Toggle off "Use service".
Now the pop-up screen appears: Stop Accessibility Menu?
Step 3: Tap OK to turn off accessibility.
Now remove the accessibility icon from your Android device bottom right side corner.
You can also turn on switch access settings to control your Android phones and tablets using one or more switches. Use switches to select items, enter text, scroll, and more. Also, assign switches, display & sound, and other switch access settings on android Pie 9.0.
Settings > Accessibility > Interaction controls > Switches Access
In other Android Pie accessibility settings, you can see talkback, select to speak, accessibility shortcuts, Magnification, remove animations, Dwell timing, and more settings.
And that's all. We hope this article clear on how to turn on accessibility Android 9 Pie? If you have any kind of trouble, tell us in below comment box. Don't forget to share with others if you found it useful.