Last Updated on March 7, 2021 by Bestusefultips
Talkback feature can be helpful for people who are blind or have low vision. By default turned off talkback on Android Oreo 8.0, 8.1, and Android Pie 9.0 devices. You can turn on or enable talkback on Android Oreo 8.1 using accessibility settings. It will provide spoken feedback so that you can use your device without looking at the screen. There are several talkback settings available in your Android Oreo devices such as text to speech settings, verbosity, proximity sensor, speak passwords, audio docking, Gestures, keyboard shortcuts, developer settings, and more.
Read Also:
How to Turn On Talkback on Android Oreo 8.1 and 9.0 Pie

First of all, let see how to navigate using talkback in Android Pie 9.0 and Oreo 8.1 devices.
Swipe right or left to move between items
Double-tap to activate an item
Drag two fingers to scroll
You can turn talkback on Android Oreo 8.0 and 8.1 using below given settings.
Step 1: Swipe down the notification panel and tap the Settings gear icon.
Step 2: Scroll down the page and tap Accessibility.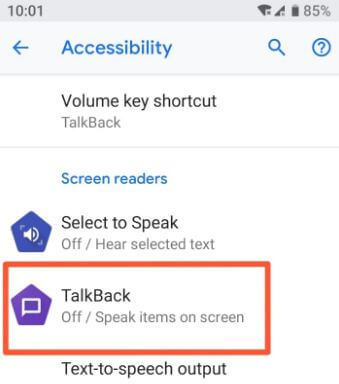 Step 3: Tap Talkback under the screen readers subheading.
By default disabled talkback in your Android Oreo 8 and Android Pie 9.0 devices. Here you can see Settings options also (Show above given screenshot).
Step 4: Toggle on "Use service".
You can see a pop-up message on the screen: Use Talkback?
Step 5: Tap OK.
Step 6: Now Enabling talkback in your android Oreo. To turn off talkback, just toggle off "Use services".
You can see a pop-up screen: Stop talkback?
Step 7: Double-tap "OK" to stop talkback in Android Oreo.
This android Oreo talkback feature needs to observe your actions, retrieve window content, observe text you type, control display magnification, fingerprint gestures, and more.
How to Turn Off Talkback in Android Oreo 8.0, 8.1, 9.0
Tap the switch. You'll see a green outline. Double-tap the switch.
On the confirmation message, tap OK. Then double-tap OK.
And that's all. We hope this makes it clear how to turn on talkback on Android Oreo 8.1 and 9.0 devices. If you have any kind of trouble, tell us in below comment box. Stay and connect with us for the latest updates.