Last Updated on March 7, 2021 by Bestusefultips
Want to quickly enable accessibility on Android Oreo? You'll turn on accessibility shortcuts on Android 8.1 & 8.0 Oreo under accessibility settings. In Android accessibility settings, you can turn on talkback, select to speak, switch access, text-to-speech output, magnification gesture, and more sections. When the Oreo accessibility shortcut feature is on, just press both volume buttons for 3 seconds to start an accessibility feature in your Android devices. Also, turn off or turn on talkback on lock screen your Android Oreo using this setting.
Read Also:
How to Enable Android Oreo Accessibility Shortcuts
You'll turn on/turn off the accessibility shortcut using below settings in your Android Oreo 8.0 & 8.1 devices such as Google Pixel, Pixel 2 XL, Pixel XL, Pixel 2, Nexus 6P/5X and more.
Step 1: Go to Settings in your Oreo devices.
Step 2: Tap on Accessibility.
Step 3: Tap on Volume key shortcut.
By default disabled this in your Android Oreo devices.
Step 4: Toggle on the button of volume key shortcut.
Now you'll see talkback, select to speak and switch access options.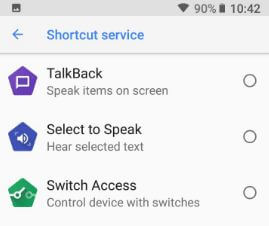 Talkback: Speak items on screen. It will describe what you touch, select and activate.
Select to speak: Hear selected text. Just select specific items on your device screen to hear them read aloud.
Switch access: Control device with switches. You'll control your Android phone and tablet using one or more switches to select scroll, items, enter text and more.
Step 5: Choose from above given three shortcuts services.
Step 6: Tap on OK.
Now you can use accessibility shortcut feature in your android Oreo devices. Also enable allow from lock screen option to use shortcut service. After enable this feature, you'll quickly enable or access accessibility feature in Oreo to press both volume keys for 3 seconds. You can see below the given screen in your device.
You'll change accessibility feature settings, use shortcut and turn off shortcut in your android Oreo devices.
How to Change Android Accessibility Shortcut Services
Make sure to enable accessibility shortcut in Oreo, after you'll change accessibility shortcut services in your android Oreo, Nougat, marshmallow, and other devices.
Settings > Accessibility > Volume key shortcuts > Shortcut services > Choose from options
And that's it. Did you find the above tutorial helpful to enable Android Oreo accessibility shortcuts? If you have any question, comment below section. Stay and connect with us for the latest updates.