Last Updated on March 7, 2021 by Bestusefultips
Most of all devices set the download software updates automatically when device connected with a Wi-Fi network. Downloading via mobile networks may take a more time to update software so if possible, download via a Wi-Fi network instead. After updating software on your android lollipop (5.1.1) and marshmallow device, you can see the currently installed android version, kernel version, build number, baseband version etc.  It's quiet easy to schedule software updates time android phone.
When I updated lollipop to marshmallow my android device, the new option under software update to set schedule software updates time. After set this software updates schedule time, you do not need to confirm every update. You can schedule the installations for a time of your choosing. When already installed latest updates then see this message on your device "The latest updates have already been installed". Follow below given steps to schedule software updates time android marshmallow (android 6.0) and lollipop (5.1.1) device.
Read Also:
How to download Android 10 on all Pixel devices
How to set schedule software update on Galaxy Note 9
How to enable developer mode android phone
How to set date and time on Android lollipop 5.1.2
How to schedule software updates time Android 5.1.1 and 6.0
Step 1: Open "Settings" app on your android phone or tablet device
Step 2: Scroll down up to end of the screen and tap on "About device"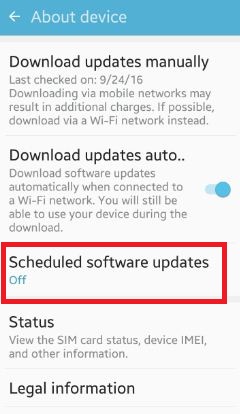 Step 3: Click on "Schedule software updates"
By default turn off toggle button of schedule software updates
Step 4: "Turn on" schedule software updates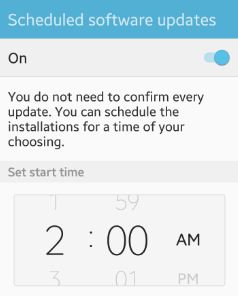 After turn on, you can see the above screen on your android phone or tablet
Step 5: Set schedule software updates time android device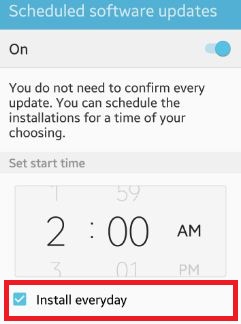 If you want to set this schedule everyday then tick mark the check box of "Install everyday"
Read Also:
How to change time on Galaxy S9 & S9 Plus
How to auto download software on Galaxy S10 Plus
Best data recovery software to restore lost data
Check for system update on Android 10 and Android 9 Pie
You can check for system software update is available in your android 9 Pie and Android 10 devices. You can get OTA update on Android if installed Beta version of OS. Otherwise you need to download factory image and flash it with your device to get latest android updates. Check for software update on android 10 & 9 Pie using below steps.
Step 1: Go to settings app
Step 2: Tap on System
Step 3: Tap on Advanced
Step 4: Tap on System update 
Step 5: Tap Check for update button
Step 6: Tap Download and install update if available updates
That's all.
Above you can see complete guide to schedule software updates time android phone or tablet device. Did you find the above process helpful? Please let us know on below comment box. Feel free to share this software updates time trick with your friends on social network.