Last Updated on June 7, 2023 by Bestusefultips
Want to unlock your Samsung phone, forget the password, or pattern lock? Here's how to unlock Samsung Galaxy S20 Plus/S20 forgot password or pattern lock. You can reset forgot password on Samsung S20 Plus/S20 to enter your device into recovery mode. Back up your necessary data safely to another device before performing master format on Samsung Galaxy. Also, use find my mobile to unlock your Samsung devices using your Samsung account to reset passwords, PIN, or pattern lock in your Samsung One UI. To bypass the lock screen on Samsung Galaxy, you need to hard reset or factory reset your device using hardware keys (Power & Volume buttons). Follow the below-given step-by-step process to unlock Galaxy S20 forgotten password or pattern number.
Read More: How to Factory Reset Samsung Galaxy
How to Unlock Samsung Galaxy S20 Plus, S20 If Forgot PIN, Pattern, or Password
How to Bypass Password Lock on Samsung using Find My Mobile: Galaxy S20/Galaxy S20 Plus
If you have forgotten the pattern lock on your Samsung One UI, you can use find my mobile to locate your Samsung Galaxy and secure your important data. To use this find my mobile, you must be signed in to your Samsung Account. Also, use it to unlock your phone if you forget your PIN or password or pattern lock on a Samsung device.
Step 1: Open Find My Mobile and log in with your Samsung Galaxy device.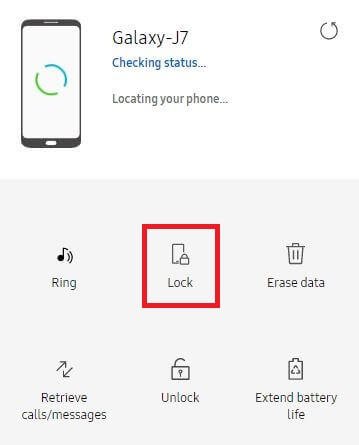 Step 2: Tap on Lock.
Step 3: Click on Next.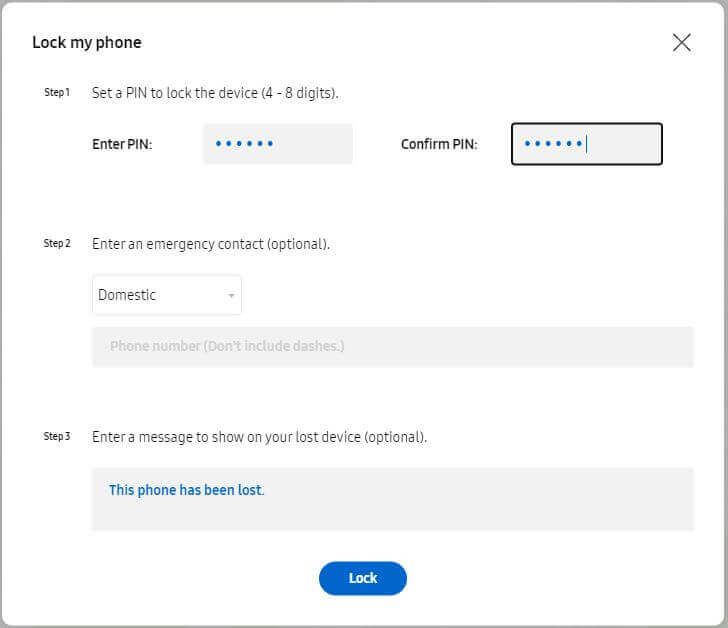 Step 4: Enter a new PIN and confirm it again. Tap on the Lock button at the bottom of the Window.
If you forgot the pattern lock, password, or PIN on Samsung Galaxy, apply the below given complete process in your device. You can reset the forgotten lock screen password in Galaxy using the below given entire process.
How to Unlock Galaxy S20+/S20 Forgot Password or PIN or Pattern
Step 1: Switch off your Samsung Galaxy.
Step 2: Press and hold the Volume up, Bixby key, and Power buttons simultaneously.
When the Samsung logo appears on the screen, release the power key on your Samsung device. After a few seconds, the Android system recovery screen views.
Step 3: Press the volume down button until Wipe data/factory reset, and press the power button to select it.
Step 4: Press the volume down button until Yes is selected, then press the power button to reset the Galaxy S10.
Step 5: Press the volume down button to the Reboot system now and press the power button to restart your Galaxy.
It will delete your Samsung & Google account, pictures, videos, and other internal storage data.
And that's all. I hope this tutorial is helpful to unlock Galaxy S20 forgot your password or PIN. Do you still have any questions regarding this tip? Tell us in below comment box. Stay and connect with us for the latest updates.
Read More: