Last Updated on March 7, 2021 by Bestusefultips
Here's how to change the keyboard language on Samsung Galaxy A50. By default set Samsung keyboard on Samsung devices and keyboard language as English (US) or English (UK). You can manage input languages using Samsung keyboard settings. Add languages to keyboard Samsung A50 using this article. Also, change the default keyboard on Samsung A50, A70, A30, A20, etc. Add multiple languages to the Samsung keyboard such as Hindi, Bosanski, Nepali, Arabic, English (UK), Deutsch, Euskara, Indonesia, Nederlands, Suomi, etc. If no available language in the Samsung keyboard, you need to download language from the Samsung store if available.
Read Also:
How to Change The Keyboard Language on Samsung Galaxy A50
Follow the below steps to set your preferred language on the Samsung A50 keyboard.
Step 1: Open the App drawer in your Galaxy A50.
Step 2: Scroll down and tap General Management.
Step 3: Tap Language and input.
Step 4: Tap the on-screen keyboard under the keyboard section.
Step 5: Touch Samsung keyboard.
Here you can see different Samsung keyboard settings including languages & types, smart typing, keyboard layout & feedback, and reset to default settings.
Step 6: Tap Languages and types.
Step 7: Tap Manage input languages.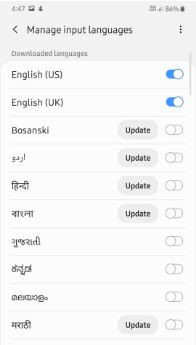 Step 8: Turn on Language toggle you want to add language on Samsung keyboard.
Step 9: Tap Three vertical dots at the top right corner.
Step 10: Tap Reorder.
Step 11: Tap & hold the icon of language and move it to top to set default keyboard language.
You can manually check for language updates or auto-updates it. Also, reorder language and remove language anytime using the above settings.
How to Remove a Language From My Samsung Keyboard on A50
If you temporarily added Samsung 50 keyboard language, you can easily remove it using the below settings.
Step 1: Follow above given method steps 1 to 6.
Step 2: Tap on Three vertical dots (More) at the top right corner.
Step 3: Select Remove.
Step 4: Choose input language you want to delete.
Step 5: Tap Remove.
Now language is removed from your Samsung keyboard list.
How to Change the Keyboard in Samsung A50, A70, A30, A20

You can change the terrible keyboard on Samsung galaxy A50 using language & input settings. Follow bellow settings.
Settings > General Management > Language & input > On-screen keyboard > Default keyboards > Choose the keyboard
Set Samsung or Google keyboard you want to use on your phone. Also, change keyboard layout including keyboard theme, increase or decrease keyboard size & layout, enable or disable predictive text, and more.
And that's it. I hope the above-given article is useful to change the keyboard language on Samsung Galaxy A50. If you have any questions, tell us in below comment box. Stay and connect with us for the latest updates.