Last Updated on March 6, 2023 by Bestusefultips
Selfie sticks are especially popular among travelers, vloggers, and photogenic people. Besides normal extension functions, the newest selfie stick can also be used as a tripod to take serious photos. Its portability makes it a lightweight and easy-to-carry tripod. These sticks also come with a Bluetooth remote, which you can use to take pictures from afar. So do you want to buy the best selfie camera sticks for Android, Samsung, iPhone, LG, etc.? Here are the 10 best selfie sticks in 2023.
Check Also: Best Magnetic Phone Mount
Best Selfie Sticks Amazon
Check out the below-given top-rated selfy sticks and selfie stand deals 2023 on Amazon online.
Erligpowht Selfie Stick Tripod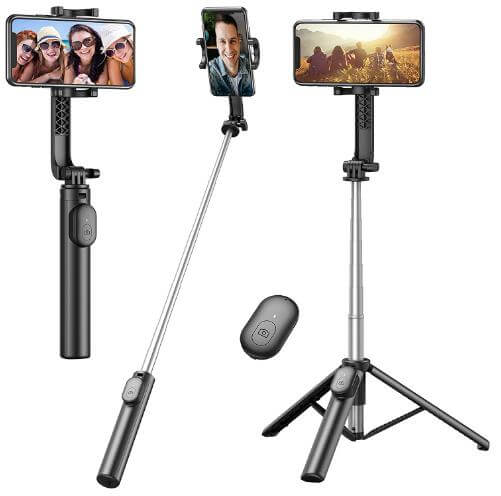 This is a 2-in-1 device with a selfie stick and tripod. It allows you to take a selfie or use remote control and set up the tripod to take big group photos. It also provides you with 360-degree rotation to change orientation and 190-degree movement vertically to adjust the capturing angle. It is made of a stainless steel body that can extend up to 38.1 inches, and it has a universal phone holder which can dock 2.28 to 3.46 inches wide phones.
Atumek 3-in-1 Bluetooth Selfie Stick 2023
This premium aluminum selfie stick and tripod stand. It offers a 270-degree rotation to adjust the orientation of the phone and 180 degrees to change the capturing angle. It can extend up to 31.3 inches and hold phones 3.42 inches wide. It also has a detachable Bluetooth selfie stick with remote, which is very helpful when using a tripod. 
Bluehorn Best Selfie Sticks
This selfie stick is made of aluminum alloy with rigid ABS tripod legs. It comes with a wireless remote shutter with a range of 10 meters to allow you to take photos from a tripod comfortably. The stick can be extended up to 40 inches and retracted to 20cm, so you can even carry it in a pocket.
BZE Selfie Stick for Android, Samsung, iPhone
It is a lightweight, portable selfie stick; made of aluminum alloy with an ABS base. It can extend upto 40inches, and the phone holder can rotate 360 degrees on the z-axis to allow changing of orientation and 180 degrees on the vertical axis to adjust capturing angle at different heights. It just weighs oz. Best for a group selfie, live streaming, video recording, etc.
Yoozon Selfie Stick Tripod
It can be used as a phone selfie holder and desktop phone holder. It is extendable from 13.3 inches to 25.2 inches. It will be 7.5 inches when entirely folded, making it very portable. The head can be rotated 360 degrees on its axis and 195 degrees towards you. The detachable Bluetooth remote has a 10m working range.
DJI OM 5 Best Selfie Sticks
This premium selfie stick has a 3-axis gimbal stabilizer that prevents shacking while capturing videos. The extension rod can be extended up to 215mm. ActiveTrack 4.0 can track your face and adjust to keep your face or subject in the frame. Another feature is ShortGuides which can recommend shot sequences and templates to enhance video recording. 
Fugetek 48" Compact Selfie Stick Tripod 2023
This lightweight aluminum selfie stick weighs only 10.5 Oz and is 9" when collapsed, making it easy to carry around. It can extend up to 48' and is compatible with iPhone and android phones. It is easy to convert on a tripod. A tripod has anti-skid rigid ABS feet. In the tripod, you can use a Bluetooth remote with a 50-foot range to capture photos. 
Check Also:
GoPro Selfie Stick for Vlog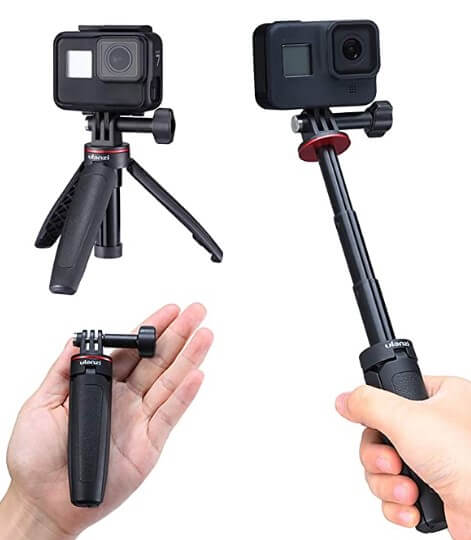 This Gopro stick is lightweight and portable for travel. Also, use it as a selfie stick for vlogs or a tripod stand for video recording. Compatible with GoPro hero 10/9/8/GoPro hero7 black/GoPro hero6/GoPro hero5, DJI Osmo action, and other action cameras.
KzomKzoo Best Selfie Stand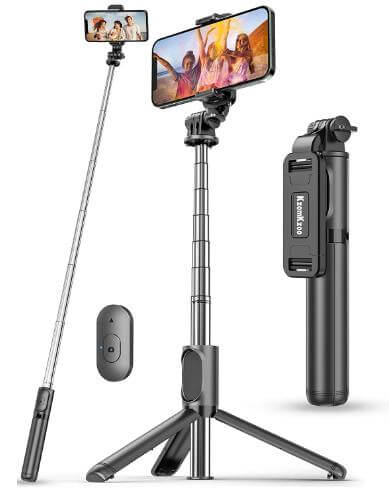 It weighs 150g and is only 7.7 inches in size. It can extend up to 9.7 inches. It can be used as a phone stand, tripod, and selfie stick. Its detachable remote control is battery-powered and can take pictures from far. You have to push to take pictures.
Andoer 54-inch Best Selfi Stick 2023
It is made of aluminum material with non-skid rubber feet to provide extra strength to the tripod. It has a universal ¼ inch screw design, a phone holder attachment, and a sports camera mount adapter. Our list's most extended extension range can be extended up to 54 inches as a tripod, allowing better stability and a more comprehensive shooting range.
Tupwoon Tripod Selfie Stick with Light
Lightweight and compact stick, weighing 0.37 lbs and 7.6 inches in size when folded, is easy to bring along while traveling. It can be extended up to 41 inches and features a light ring with adjustable brightness, and light rings enable you to take selfies even in poor light conditions. It also can be used as a tripod using a Bluetooth remote.
And that's all. Which selfie stick for Android did you like? Tell us in the comments below. Stay and connect with us for the latest updates.
FAQs:
How to Use Selfie Stick?
Open or extend your selfie stick handle and place your phone in the holder. Ensure your phone connects to the selfie stick using a wired or Bluetooth connection. Now, set your selfie stick position and take your selfie.