Last Updated on March 7, 2021 by Bestusefultips
Here's how to edit or change the YouTube channel name on Android in 2020. You can change your YouTube channel settings including channel name and channel description using your Android or PC/Laptop. When the first time creates a YouTube channel, all your activity is private and adjusts privacy settings to change it public. To create a new channel, you must create a brand account in the YouTube app. If your YouTube channel connected to a brand account, it can share multiple accounts. To add content on your channel, upload a video form your android device. Also, set up your YouTube channels that managed by other people in your device.
By default enable YouTube subscription private, liked videos private and saved playlists private on your android phone. Also, change the profile photos of the YouTube channel. In this tutorial, I will show you step by step process to change the channel name on YouTube Android phone.
Read Also:
How to Change YouTube Channel Name on Android and Desktop PC

Step 1: Open the YouTube app and sign in with your account on your Android phone.
Step 2: Tap on the "Profile" icon from the top right corner.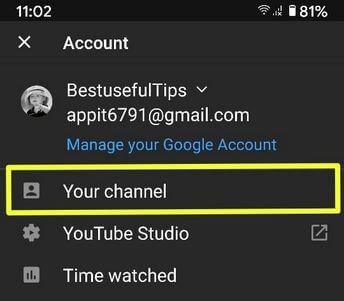 Step 3: Tap on Your Channel.
You can see the below screen on your device.
Step 4: Tap on "Settings gear icon"
You can view your YouTube channel page on your android phone.
Step 5:  Click on the "Pencil" icon to change the YouTube channel name and description.
Note: 3 Name changed allowed every 90 days.
Step 6: Edit or Enter channel name wants to set and Tap OK.
Also, change the channel description and privacy settings for your subscriptions and saved playlists.

How to Change Your YouTube Channel Name on PC/Laptop in Chrome/Firefox
Step 1: Sign in your YouTube account on desktop or laptop.
Step 2: Tap on the Profile icon at the top right corner.
Step 3: Select Settings.
Step 4: Tap Edit on Google.
Step 5: Enter the first name & last name and tap Save.
Did you find the above steps to change YouTube channel name on android is helpful? If any problem finds when implement, please let us know on below comment box. It would be a pleasure to help you. Don't forget to share this trick with your friends on social networks. Stay connects with us for daily latest technology updates.