Last Updated on March 7, 2021 by Bestusefultips
This tutorial explains to you how to manually turn on dark mode on Android 9 Pie. You can find device theme settings in display settings in your android Pie 9.0 devices. By default set theme automatic based on wallpaper you set. If you set black-type wallpaper, android Pie theme set dark or if set white then android Pie theme set light. You can manually change the android Pie theme as a dark mode or light mode you want.
Recently Google released Android P Beta 3 or Android P developer preview 4 for Google Pixel, Pixel 2, Pixel XL and Pixel 2 XL devices. You can download updates via OTA if already installed android P Beta or using factory images. This Android P Beta 3 included device theme settings option. Follow the below-given step by step process to manually enable dark mode in Android Pie 9.0.
Relevant Articles:
How To Enable Dark Theme On Android Pie 9.0: Google Pixel, Pixel XL, Pixel 2 XL
To change the theme in android Pie 9.0, follow below-given settings in your Pixel and non-Pixel devices.
Step 1: Swipe down the notification panel and tap the Settings gear icon.
Step 2: Tap Display.
Step 3: Tap Advanced.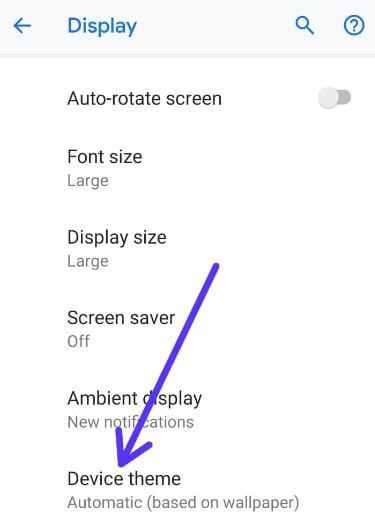 Step 4: Scroll down up to Device theme and tap on it.
By default android P theme set as automatic (based on wallpaper).
Step 5: Choose dark to activate dark mode in Android P 9.0
This android Pie dark theme is helpful to extend battery life in your device. Also, set the light theme in android P 9.0 if you don't want to like a dark theme. If you change wallpaper in android 9.0 that will affect your android Pie theme.
How to change wallpaper in Android 9 Pie
If you set dark wallpaper in your device, then automatically android Pie 9.0 theme set as black. And if set white (Light) wallpaper, set android Pie light theme.
Step 1: Go to settings in your android P 9.0.
Step 2: Tap Display.
Step 3: Tap Wallpaper.
Step 4: Select light or dark wallpaper you want to set.
Step 5: Tap Set wallpaper at the upper right corner.
Step 6: Choose home screen / lock screen / Both.
Now change your device menu, notification panel and other settings in your android P 9.0 device. You can also change the android P 9.0 wallpaper using below given settings.
Long press on the blank space in home screen > Wallpapers > Select wallpaper > Set wallpaper > Home screen / Lock screen / Both
Related:
Automatically Enable Dark Theme in Android 10
Step 1: Open the app drawer and tap the Settings app.
Step 2: Tap on Display.
Step 3: Click on the Dark theme.
Step 4: Tap Schedule.
Step 5: Click on Turns on from Sunset to Sunrise.
Alternative Way: Swipe down notification panel twice from the top of the screen > Dark theme
And that's all. We hope this makes it clear how to turn on dark mode in Android Pie 9.0. If you have any questions, tell us in below comment box. Stay and connect with us for the latest updates.