Messaging problems when sending or receiving messages on your android phone.  Sometimes you can see the red exclamation mark android device, it means your text message was not sent. First of all change your preferred network to Global. In your android device, set network preference to save battery. Your device search all available cellular networks and tries to connect the fastest network it can use.
In messaging, you can also see other problem of messenger app has stopped, can't send or receive message, can't hear notifications and more. But in this tutorial, I will show you complete process to fix red exclamation mark android phone when sending message.
Don't miss this: How to find lost phone location android phone
How to fix red exclamation mark android text message
When red triangle seen when send text message on android, try below troubleshooting step:
Step 1: Check signal strength on android Nougat (Android 7.0) & marshmallow (Android 6.0) and other devices
Week signal of your cellular network is a common reason of unsent messages. Check in the status bar, how many bars your network connection has. If you can see low bars, change location to improve your signal strength, particularly if you are indoors.
To view network connection strength:
Settings > Battery > Battery history graph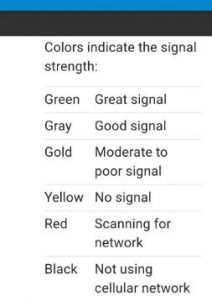 Now use the colors of your cellular network signal to find if you've had a recent loss of network signal. If network signal weak, phone uses up to three times more battery power than normal to maintain network connection. I hope this steps solved your red exclamation mark android message error.
Step 2: Open the conversation and resend the message
Follow below given ways when not sending or receiving messages on your android device:
1st way: Check messaging app updates on your device
2nd way: Check software update for your phone
Settings > about phone > System updates
3rd way: Turn phone off and turn on again
When messenger app has stopped on android phone:
1st method: Check app permission not disabled
2nd method: Force stop the app
3rd method: Uninstall any recent app updates
4th method: Clear the app's cache on android phone
If above given methods not solved your problem of suddenly messenger stopped in your android device, try below method.
5th method: Reset the android device
Don't forget to which method worked for you. We hope above given steps clear to fix red exclamation mark android text message. If you have any kind of trouble, let us know below comment box, would be pleasure to help you. Don't forget to share this article with your friends!