Last Updated on March 3, 2020 by Bestusefultips
Have you ever track your lost android phone location on your device without the android app? Here's the way to find a lost phone location Android device manager. Android device manager allows you to remotely find, lock and erase your android phone. To find the location of your lost or stolen device location services is turned on. If not enable location, you can still chance to lock and erase the phone but you can't search its exactly current location. It's easy to enable android device manager on your device.
Android device manager gives permission to the app Google play services to perform lock the screen, change the screen lock and erase all data. You can also track your lost android phone using a desktop computer, click here to find a lost or stolen phone using a computer. Also, track lost phone location using Google Maps on Android devices. Follow the below-given step by step guide to find lost phone location android device.
Don't Miss This:
How to Track My Lost Android phone location
Step 1: Tap on "App drawer" from home screen in your Android Nougat 7.0 (Moto G4 plus).
Step 2: Go to "Settings" or Swipe down the top of the screen of notifications & tap on the "Settings" gear icon.
You can see various sections including wireless & networks, device, personal and system.
Step 3: Under the personal section, tap on "Security".
Step 4: Tap on "Device administrators" under the device administration section.
By default activate or enable android device manager on Moto G4 plus device (Android nougat 7.0). After enabling the android device manager to follow below settings on your phone to track lost phone location.
Settings > personal section > Google > Services > Location (If disable then enable it) > Location services > Google location history (Enable it on your device).
After enable you can see the above screen on your android phone.
Step 5: Tap on "More" from the top of the right side corner.
Step 6: Tap on "View / Manage".
Now you can view or find lost phone location android device current location.
Step 7: Tap on "Android device manager".
Step 8: To deactivate this feature, tap on "Deactivate this device administrator".
Find Lost Phone Location on Android 8.1 Oreo, 9 Pie, 10 using your Android device
Step 1: Go to settings in your latest android devices
Step 2: Tap Security
Step 3: Tap Find my device under security alerts section
To use find my device on android, make sure turn on location in your device. Three different methods available here including Google find my device app, using Web, and using your phone Google account.
Find a lost or stolen phone using computer/laptop device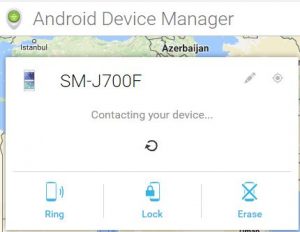 First of all log in your Gmail account, after log in location data from your lost phone will be collected by the android device manager and sent to Google. You can view your android phone location approximate near, but not completely accurate. You can ring the stolen phone, lock & reset device password and erase data on your device.
I hope this article will help you to find lost phone location android device. If you have any kind of trouble when using the android device manager, let us know on the below comment box. It would be a pleasure to help you. Don't forget to share this useful trick with your friends!