Last Updated on March 29, 2023 by Bestusefultips
Google discover dark mode in almost all Google apps. You can manually set the dark mode Google contact app or use system theme settings to automatically enable dark or light mode on your Google contacts app. In this tutorial, I'll show you how to turn dark mode on Google contacts app on Android, Samsung, and OnePlus devices. Let's see the settings to enable Google dark mode on the Google contacts app.
Read More: How to Turn On Chrome Dark Mode on Android, Windows 11/10
How to Turn Dark Mode On Google Contacts App on Android, Samsung, OnePlus
You can manually turn on dark mode on Google Contacts app using the below settings.
Step 1: Open the Google Contacts app on your phone.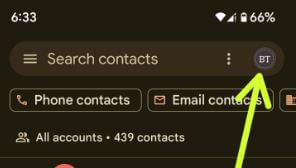 Step 2: Tap the Profile icon at the top right corner.
Step 3: Tap Contacts app settings.
Step 4: Tap Theme in the Display section.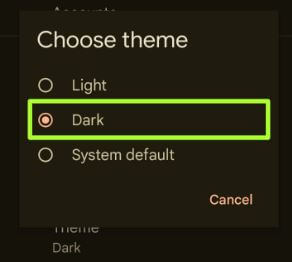 Step 5: Select Dark.
Set System-Wide Settings to Automatically Set Google Contacts Dark Mode or Light Mode
Google Contacts app > Profile icon at the upper right corner > Contacts app settings > Theme > System default.
Older Android Version
Step 1: Swipe up from the bottom of the home screen to access the app drawer in your Android.
Step 2: Tap the Contacts app.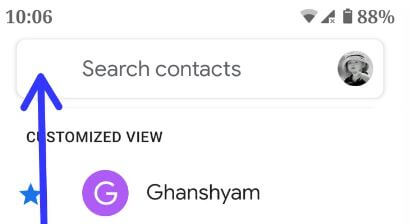 Step 3: Tap Three horizontal lines (More) at the upper left side.
Step 4: Select Settings.
Here you can see Google contact app settings such as your info, name format, choose a theme, import & export contacts, restore contacts if lost, blocked numbers, and more.
Step 5: Tap Choose theme under the display section.
By default, the Google contact app set a light theme on older Android devices.
Step 6: Choose a theme from Light /Dark /System default (Dark theme set by Battery saver).
To enable dark mode on Google contacts on Android devices, choose dark or system default option from the options.
And that's it. I hope this little tutorial is helpful to turn on dark mode in Google contacts app on Android device. Stay and connect with us for the latest updates. If you have any trouble, let us know in the below comment box.
Related: