Want to permanently remove WhatsApp call history Android or iPhone? Here's how to delete WhatsApp call history on Android devices. When you make WhatsApp video call or voice call, it will save those contacts info on the calls tab. You can clear the call log in WhatsApp at the same time or remove one by one call history. WhatsApp group video call supported up to 8 people at once in your Smartphone. You can delete missed calls and video calls you already called. Also, delete WhatsApp chat permanently from your Android or iPhone devices.
Read Also:
How to Delete WhatsApp Call History on Android Phone
First of all, let see steps to individually remove the clear call logs WhatsApp app one by one in your android device.
Step 1: Open the WhatsApp app in your device.
Step 2: Tap Calls tab.
Here you can see WhatsApp voice calls and video calls contact list.
Step 3: Tap & hold the contact and tap the Trash icon you want to individually remove from the call log.
Now clear WhatsApp call logs contact you selected from your device. If you want to clear call logs at once, apply below given settings.
How to Clear WhatsApp Call Logs Permanently on Android
Step 1: Open the WhatsApp app on your android phone.
Step 2: Tap Calls tab.
Step 3: Tap Three vertical dots (More) at the upper right corner of the screen.
Step 4: Touch a Clear call log.
This pop-up screen appears on your device: Do you want to clear your entire call log?
Step 5: Tap OK.
It will clear WhatsApp call history including voice calls and video calls from calls list.
How to Permanently Delete WhatsApp Chat History on Android
It will delete all chats and their messages from your device.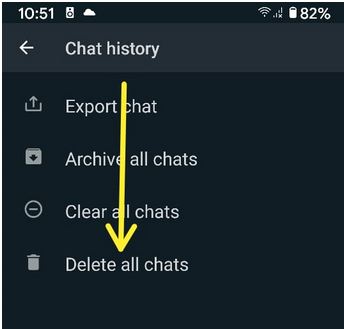 Open WhatsApp > Three vertical dots at the top right corner > Chats > Chat history at the end of the page > Delete all chats > Delete
And that's it. We hope the above-given tutorial useful to delete WhatsApp call history Android phone. If you have any kind of trouble, tell us in below comment box. Don't miss out to check our other latest WhatsApp tutorial.