Want to delete someone on WhatsApp without them knowing? This tutorial will show you steps to delete WhatsApp contacts in Android device. You can only individually remove WhatsApp contacts from your address book in android or iOS or Windows devices. Also delete WhatsApp messages.
When you add new contacts in your phone list, it will automatically show on WhatsApp contacts list if that phone number registered as WhatsApp number. Several users facing WhatsApp still shows deleted contacts in address book. Follow below given step by step process to delete WhatsApp contacts in Android phone or tablet.
You May Like This:
How to delete Snapchat account on Android
How to block contacts from WhatsApp android
How to block someone from seeing your Snapchat story Android
How to recover deleted WhatsApp messages on Android
How to delete WhatsApp contacts in Android devices
To delete contacts in WhatsApp android, just remove your mobile number from your phone's address book.
Step 1: Open WhatsApp app in your android device
Step 2: Tap Chat tab
Step 3: Tap New chat icon at bottom right corner
List of WhatsApp contacts are available in your device.
Step 4: Tap contact from list you want to hide or remove
Step 5: Tap Contact name from top of the screen
Step 6: Tap More (Three vertical dots) at upper right corner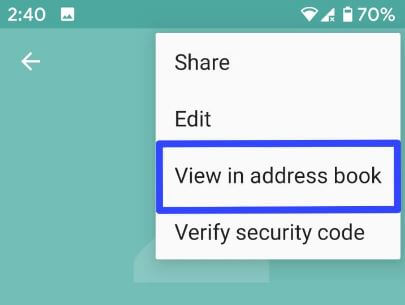 Step 7: Select view in address bar
Step 8: Tap More
Step 9: Tap Delete
You can this message on the screen: Delete this contact?
Step 10: Tap Delete
Now this contact will remove from your WhatsApp contacts list. To show this contact, again add phone number in your android or iPhone devices. Also delete contact in WhatsApp using contact settings.
Open contacts app > Select contact you want to delete > Three vertical dots (More) > Delete > Delete
And that's it. I hope this little tip useful to delete WhatsApp contacts in Android devices. Do you still have any question? Tell us in below comment box. Don't forget to share with others if you found it useful.