Last Updated on
Want to get rid of blocked contacts on WhatsApp? Here's how to remove/delete a blocked contact from WhatsApp. You can block WhatsApp contact from a contact profile and add one by one from WhatsApp block settings. After a block, blocked contacts will no longer be able to call you or send you messages and not seen your profile pictures. When you unblock this contact then it can send messages or calls again.
A sometimes unknown person or people send messages so we irritate and block that individual person. In WhatsApp when you blocked any contact then you can see the number on the WhatsApp blocked list and easily remove blocked contact from WhatsApp without unblocked it. You can unblock any WhatsApp contact from profile settings or WhatsApp privacy settings options.
WhatsApp is recently the most used messaging apps than any other social media chat apps. You can share unlimited videos, pictures, and other data with your friends, family, and WhatsApp groups without any pay. In WhatsApp, you can only chat with those people who are added to your phone address book.
Read Also:
How to Delete Blocked WhatsApp Contacts From Android Phone
Step 1: Open the WhatsApp app in your device.

Step 2: Tap on More option in the top right side corner.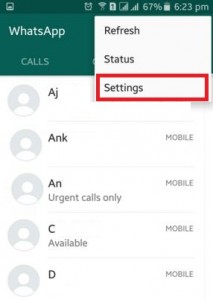 Step 3: Tap on Settings.
Step 4: Tap on Account.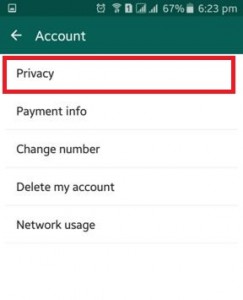 Step 5: Tap on Privacy.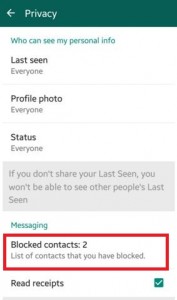 Step 6: Scroll down and tap on Blocked contacts.

Step 7: Tap any Blocked contacts.
Step 8: Tap Unblock.
Delete WhatsApp Blocked Contacts
Step 1: Open WhatsApp on your android phone and tablet.
Step 2: Tap on Contacts (Older version) or Contact (latest) icon at the bottom right corner & find the blocked contact.

Step 3: Tap and hold to unblock any individual contact on your android device.
Now, you can able to call or send messages this contact.
Delete a Contact from WhatsApp Android
If you don't want to talk with any WhatsApp contact, just remove it from your phone address list. It will automatically remove from your WhatsApp contacts.
Open Phone app > Tap Contacts tab from bottom right > Select contact from list > Three vertical dots (More) > Delete > Delete
Above you can see the perfect guide to remove blocked contact from WhatsApp on your android lollipop and KitKat devices. If any trouble then posts a comment on the below box.