Last Updated on March 7, 2021 by Bestusefultips
Is it possible to delete a WhatsApp message after sending it on Android or iPhone? Yes, here's the process to delete sent WhatsApp messages on Android phones or tablet devices. Sometimes by mistake or accidentally we sent messages to another person. But in this new "delete sent WhatsApp message" updates, once you sent text messages to anyone, you can delete it before they read. In the latest version of WhatsApp (2020), you can delete WhatsApp's messages from receiver's phone until they don't see the message. After seeing the message, you can't see this delete WhatsApp message option in the list.
Read Also: How to read deleted WhatsApp messages on Android devices
How to Delete Sent WhatsApp Messages on Android Phone or Tablet
To use this new remove WhatsApp sent messages feature in your device, both devices have the latest version of WhatsApp installed in your devices. You can manually install the latest version of WhatsApp from this. Let see the steps to delete WhatsApp sent messages in android phone or tablet devices.
Step 1: Open the WhatsApp app in your android device.
Step 2: Tap on the Chats tab and tap the contact you want to remove the message you send.

Step 3: Long-press on the chat message you recently sent.
You can remove sent messages that have been sent in the last 7 minutes only from your device to other devices.
Step 4: Tap on the Trash icon on the top menu options.
You'll see below the given three options popup menu in your device.
Delete for Me: This delete for me option in WhatsApp is useful to delete your message only from your device. The receiver can see it in his device.
Cancel: Cancel the message you sent from your Android device.
Delete for Everyone: This will delete the sent message for both sender and receiver devices.
Step 5: Tap on Delete for everyone to delete sent WhatsApp messages on your Android or iPhone.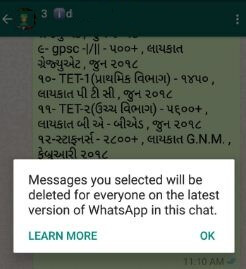 Step 6: Tap on OK.
You will see this message on the deleted chat screen: "This message was deleted". Now instantly deleted messages from both ends.
After reading the send messages, again tap on the trash icon at the top menu, and you'll see only delete for me and cancel options.
And that's it. I hope this tutorial helpful to delete sent WhatsApp messages on Android phones. If you have any kind of trouble, tell us in below comment box, we would response as soon as possible.