Last Updated on March 7, 2021 by Bestusefultips
Here's a complete guide to enable or disable apps with usage access permission Android Oreo devices. By default allow or turn on usage access permission on Android Oreo 8.1 & 8.0 and other devices. This usage access feature allows an app to track what other apps that you're using on your device and how often, as well as your operator, language settings, and other details. By default, three apps enable usage access permission including Google play services, Google play store, and Pixel launcher. Different android device has slightly different settings to disable it.
Read Also:
How to Enable/Disable Apps With Usage Access on Android Oreo 8.0 & 8.1
By default turn on apps with usage access on android Oreo devices. You can disable it using the below settings.
Step 1: Go to Settings in your Android Oreo devices
Step 2: Tap on Apps & notifications.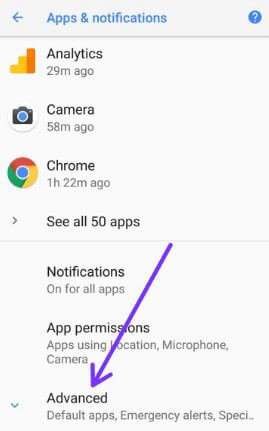 Step 3: Scroll down at the end of the page and tap on Advanced.
Step 4: Tap on Special app access.
Here you'll see several settings such as Battery optimization in Oreo, Display over other apps, Usage access, Unrestricted data, DND access, Picture-in-picture mode, install unknown apps, and more.
Step 5: Tap on Usage access.
A list of supported apps is the view in your Oreo device screen. You can also select show system apps to disable app permit usage access.
Step 6: Tap on App you want to disable usage access.
By default enabled app usage access.
Step 7: Toggle off Permit usage access
Now stop app usage access permission on your Android Oreo devices.
Now that's all. I hope this tutorial helpful to enable/disable apps with usage access on Android Oreo 8.0 & 8.1 devices. If you have any kind of trouble, tell us in below comment box. We'll respond as soon as possible. Don't miss out to check out our other Android Oreo tips.