Last Updated on March 7, 2021 by Bestusefultips
Google releases final Android Q Beta 6 for all Pixel and other supported devices. If you've already installed Android Q Beta 5, you can get OTA update in your Pixel device. Click here to download and install android Q Beta 6 on Pixel 3 XL, Pixel 3, Pixel 3a, Pixel 3a XL, Google Pixel, Pixel XL, Pixel 2 and Pixel 2 XL. Check out best Android Q Beta 6 features.
Don't miss out to check what's new in Android Q Beta 1, Beta 2, Beta 3, Beta 4, and Beta 5
This last released Android Q Beta 6 includes new back sensitivity settings under gesture menu, hidden gesture navigation bar (Pill icon) in the home screen, rotation button darker, Google play system update and Night sight in main UI in camera settings. Check out everything new in Android Q Beta 6 features for Google Pixel.
Don't Miss This:
Android Q Beta 4 accent colors
7 Best Google Pixel 3 tips and tricks: Hidden features
How to disable dark mode in Android Q 10
How to get Google Pixel 3 features to any android device
Android Q Beta 6 features – What's the new
The final Android Q Beta update is officially available for all Pixel devices. Recently updated my Pixel device and get below given new settings.
Back sensitivity 
You can find back sensitivity settings under system navigation in your device. Adjust back sensitivity to move slider left or right to set low or high sensitivity. Higher sensitivity may conflict with any app gestures along the edges of the screen. New added Android Q Beta 6 features.
Settings > System > Gestures > System navigation > Tap Settings gear icon in-front of Gesture navigation > back sensitivity > Low / high > OK
Gesture navigation bar hidden (Pill icon or Horizontal line) on the home screen  
When enable fully gesture navigation on Android Q Beta 6, you can't see pill icon on middle of the screen. When slide up or open app drawer or other activity in your phone, you can see navigation bar.
Night Sight in main camera UI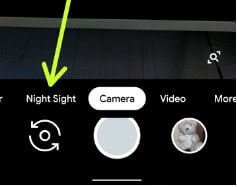 Now you can view camera Night sight feature in main UI. Before this android Q Beta, you can find it under more settings.
Read Also: Pixel 3 camera features: Top Shot, Night Sight, Group Selfie
New emergency icon in power menu
Just long press power button in your Pixel devices and you can see new Emergency icon in power menu.
Google Play system update
Google play system update added instead of Google play system update under android version in your Pixel devices.
Settings > About phone > Android version > Google play system update
Also find this setting under security settings in your Pixel.
Settings > Security > Security status > Google Play system update
And that's it. End the list of added new Android Q Beta 6 features. Have you update your device with latest android Q Beta? Tell us in below comment box. Click here for more android 10 Q tips and tricks.