Last Updated on March 7, 2021 by Bestusefultips
Have you ever used the color inversion feature on your latest Android phone? Here's how to turn on color inversion on Google Pixel and other Android devices using accessibility settings or notification panel. This invert colors feature compatible with only running Android 5.0 Lollipop and later versions. Color inversion changes the color on your device like white text on a black screen and black text on a white screen. Most of all this color invert feature helpful to use your Pixel device at night, it works in the dark mode so less stress compares to regular use phone. This feature is perfect for those who work at home. Inverting colors on Android phone also save battery life and less stress to your eyes. After enabling it, you can easily reading night in your device.
Read Also:
How to Turn On Color Inversion on Google Pixel and Pixel XL
There are two ways to enable invert colors in Android devices. Check out below given two methods.
Turn On Invert Colors on All Android Screen Using Notification Panel
Step 1: Scroll down the notification panel from the top of the screen in your Android devices
Here you can view various shortcuts in your devices.
Step 2: Tap on Invert colors.
If not find the option on the notification panel, go to phone settings, and enable it.
Turn On Color Inversion Google Pixel and Pixel XL Using Phone Settings
Step 1: Go to Settings.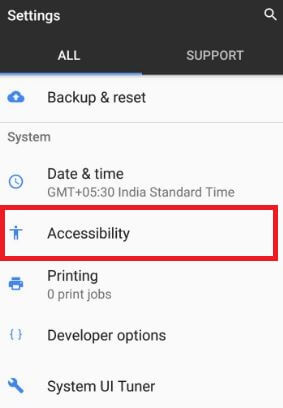 Step 2: Scroll down until finding Accessibility under the system section and tap on it.
You will see the services, system, and display section. In the display section, you can see color inversion and color correction options.
By default disabled color inversion option in your Pixel and other Android devices.
Before enabling color inversion your phone looks like the above screen.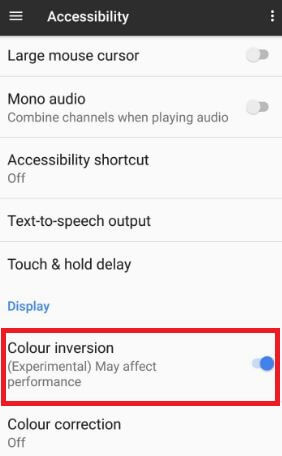 Step 3: Toggle on "Color inversion".
Show the above screenshot to know what effect color inversion feature in your Google Pixel and other Android devices. Now in your Google Pixel device, the black text will appear as white and white text appear as a black screen. Your android phone's color completely inversed.
You can see another correction mode option. You can invert screen color as RGB. By default set red-green in your pixel. Also, choose from red-green/blue-yellow.
How to Enable Invert Colors on Android 6.0 Marshmallow

Settings > Accessibility > Display > Turn on color inversion
How to Enable Invert Colors on Android Lollipop 5.1.1
Settings > Accessibility > Enable color inversion
That's it. We hope this makes it clear how to turn on color inversion Google Pixel XL and other android devices. If you have any trouble, let us know in below comment box, we will respond as soon as possible.