Last Updated on March 7, 2021 by Bestusefultips
In latest android nougat 7.0 & 7.1 devices, you can view Google voice search button on home screen, messenger and other android keyboard. Hide or remove voice search button on android keyboard. Using this voice input key, you can add a message without typing on your android phone, just tell the message you want to add on messenger. You can not remove Google voice search from home screen but in android Keyboard, it is possible to delete Google search bar in nougat. You can also hide emoji switch key from android keyboard in nougat 7.0 devices.
When emoji is enabled in your android phone, that language key cannot be shown in keyboard. Also show recently used emoji when typing any symbols in Google keyboard. By default, enable Google voice input key and emoji key on android phone. Different android device has different settings to hide voice search button from keyboard. Follow below given step by step process to remove voice search button on android keyboard / Gboard keyboard / Swype keyboard.
Read Also:
How to delete Google voice search history on Android
How to remove G button from Google Keyboard Android
How to make a call using Google voice search
How to use Google voice search on android phone
How to remove voice search button on android keyboard
Step 1: Tap on "App drawer" from home screen on Android 7.0 Nougat
Step 2: Go to "Settings"
Step 3: Under personal section, tap on "Languages & input"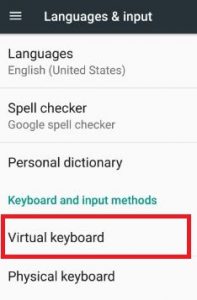 Step 4: Tap on "Virtual keyboard" under keyboard and input methods
Step 5: Tap on "Gboard"
You can view list of various options.
Step 6: Tap on "Preferences" under Gboard keyboard settings
Under keys section, you can see enable voice input key on your nougat and other devices.
When enable this, in keyboard Google voice to text button seen.
Step 7: Turn off toggle button of "Voice input key"
After disable this, you can view screen of hide voice text icon from keyboard in android phone.
In WhatsApp and other messenger apps, you can quickly remove Google voice to text button in Nougat 7.0 & 7.1 devices.
Follow below given settings.
WhatsApp > Tap on "G" button > Search gear icon > Preferences > Voice input key
That's all. Don't forget to mention above method to remove voice search button on android keyboard worked for you or not. If you are facing any kind of trouble, we invite you to leave your comment below box. Share this article with your friends and family members if you found it useful.