Last Updated on March 7, 2021 by Bestusefultips
This tutorial explains your steps to enable and use Samsung A50 smart lock. By default turned off smart lock on Samsung Galaxy A50, A70, and other devices. This Samsung smart lock feature includes On-body detection, Trusted places, Trusted devices and Voice match. You can use smart lock on Samsung A50 to keep your phone unlocked when it's in a trusted location or detects a trusted device nearby.
If you don't want to use PIN, Password or PIN or other Biometrics security, you'll use Google smart lock to unlock your phone automatically. Several users facing Smart lock on Android not working. Follow below given complete process to enable and use Samsung A50 smart lock.
Don't Miss This:
How to use lockdown mode in Galaxy S10
How to use the trusted face on Pixel 2 and 2 XL
How to fix trusted face not working on Android
How to enable and use Samsung A50 Smart Lock  
You can enable smart lock on galaxy A50 using below given lock screen settings.
Step 1: Swipe up from the bottom of the screen to open the app drawer
Step 2: Tap Lock screen
Step 3: Tap Smart Lock
You can see 4 Google smart lock (Show above screenshot) options are available in your Samsung Galaxy A50, A70, etc. Turned off the smart lock by default in your device.
ON-body detection
You can use Smart lock on body detection to keep your device unlocked while it's on you. On-body detection can't distinguish between you and someone else. If someone takes your device while it's unlocked, they might be able to access it.
Trusted places
You need to add your location where the device should be unlocked. Enable trusted places a smart lock on A50 to use it.
Trusted devices
Add a Bluetooth device to keep your phone unlocked when connected. You can add your Bluetooth watch, your car's Bluetooth, Wear watch, Mi Band, etc. It supports a range of up to 10 meters to connect other devices. Add your device to keep this one unlocked when it's nearby.
Voice Match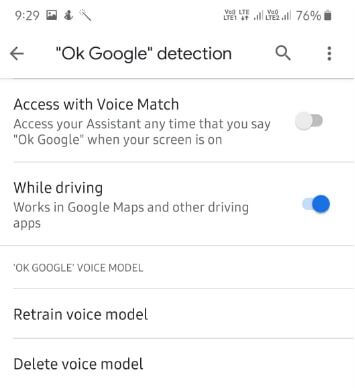 Access your voice assistant any time that you say "OK Google" when your screen is on. Make sure to set up a voice match on your Samsung galaxy devices. It also works in Google Maps and other driving apps. Enable access with voice match to use Google Assistant on your devices.
And that's all. We hope this makes it clear how to enable and use Samsung A50 Smart Lock. Do you still have any questions regarding this article? Stay and connect with us for the latest updates.