Last Updated on March 28, 2023 by Bestusefultips
Tablets are getting more and closure to laptops in both functioning and hardware. External accessories can enhance your experience, like using a keyboard for faster typing or a stylus to draw stuff more accurately. So do you want to buy the best Android tablet accessories? Here are the 10 best Accessories for tablets in 2023.
Check Also:
Best Android Tablet Accessories 2023
Check out the below given the best accessories for tablets for your Android.
Sony LinkBuds S Earbuds Deal
In-ear earbuds have an intelligent sound feature that intelligently adjusts the sound volume to your comfort level. Its NEVER OFF feature allows LinkBuds S to turn off and on noise cancellation as per ambient noise for the distraction-free session. These buds also will enable you to access multiple devices at once.
Ultimate Ears Wonderboom 2
Your finest travel speaker is robust, IP67-rated waterproof, dustproof, and floatable. It may be used in pools and on beaches. There are 13 hours of gameplay and stereo sound when connected to another Wonderboom 2. You may immediately raise volume and clarity with an outside boost button.
Arteck HBB030B Keyboard Deals 2023
These keyboards have scissors kick construction, allowing you to use them more than 3 million times while making a whisper quite a noise level. It has an RGB backlight with brightness levels and 7 colors: deep blue, soft blue, bright green, red, purple, and cyan. It can be used for 6 months after a single charge across all platforms like android, windows, and iOS.
Best Accessories for Tablets Lamicall Gooseneck Tablet Holder
This gooseneck is compatible with any 4.7-10.5 inch device. It helps you watch series, read books, facetime with friends and family, or even view recipes in the kitchen. This device is especially beneficial to improve posture by keeping the tablet at eye level. It can be clamped to a bed, desk, or table.
OASO Stylus
This stylus works on capacitive devices and all Android and iOS touch screens. It is made of aluminum with a highly sensitive tip to draw and write accurately. It doesn't need any battery to work, and the tip is replaceable.
UGREEN 100W USB-C Charger 2023
This is a 100W charger with 3 USB-C ports and 1 USB-A port. It has an intelligent PMW chip that can adjust power suitable to the connected device. It has a ULV-90 vetted shell for better heat dissipation. It also has a GAN chip and foldable plug to make it smaller.
Check Also: Best 45W Chargers for Samsung Galaxy S22+ and S22 Ultra
Garmin Epix Gen 2
This is a 1.3" watch with a bright AMOLED display, a gesture battery life of 16 days, and always-on display battery life of 5 days. It features distance tracking, elevation tracking, fitness tracking, sleep monitoring, GPS, and Bluetooth. It has Garmin coach flexible training plans. Its multi-band GNSS allows very accurate positioning even in wild terrains.  
Anker 325 Power Bank
20000 mAh power bank with PowerIQ technology, a multi-protect safety system, an 18-month guarantee, and the ability to change output depending on the device. You can even charge very low-powered devices like earphones with trickle charging mode. It has dual output too.
Lamicall Tablet Pillow Stand
This multi-angle pillow with 6 adjustment options in both horizontal and vertical orientations. This is best suited for viewing 4-13 inch tablets on beds and sofas. It is solid and resilient, making it more durable. 
Best Accessories for Tablets Sony WH-1000XM5 Headphone
One the best headphones by sony, they are equipped with auto NC optimizer, which adust volume and noise cancellation based on surrounding to save battery. It has an integrated processor V1 to tailor the sound for you. It has 4 beamforming mics for crystal and clear voice pickup. It has 30 hours of playback time with only 30 min charging or 3 hours of playback with 3 min of charging.
EasyAcc Charging Docking Station 2023 Deals
Specs:
4-in-1 Charging station
2 card slots that support seven different types of memory cards
Data transfer speeds up to 480 Mbps
No driver is required for Windows 7/8/Vista/XP
Include card reader, hub and OTG
One quick charging port
Built-in surge protector
For the USA: Order Here
For the UK: Order Here
Infiland 10 Inch Lenovo Tablet Case
Specs:
Slim fit covers the back and corners
Specially designed for Lenovo yoga tablet 2
High-quality synthetic leather stand cover with two angles
Unique and decent design
Ultra-slim and lightweight
Magnetic closure
Easily access all ports and functions
Available in various colors
For the USA: Order Here
Anker External Battery Power Bank
Specs:
Ultra-high capacity (20000mAh)
Fastest charge up to 2.4 amps or 4.8 amps
power a Voltageboost technology
Recharge itself in 10 hours with a 2 amp charger
Include micro USB cable, travel pouch
100% best ratings in both USA and the UK
For the USA: Order Here
For the UK: Order Here
Android Tablet Wireless Bluetooth Keyboard with Stand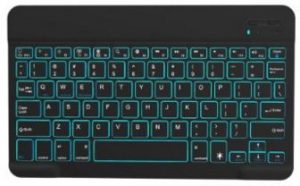 Specs:
Ultra-slim and sleek
Bluetooth 3.0 technology for cable-free & clutter-free connection
Operating up to 10 meter
Durable & lighter
Multiple backlit color options
Compatible with Android, iOS, and Windows tablets
For the UK: Order Here
Android Tablet USB OTG Adapter
Specs:
LDesign 4-in-1 multi-functional design
Portable & lightweight
Micro USB to OTG USB 2.0 SD card smart reader adapter
Micro USB charging port
Transfer data fast on your android tablet or android phone
Read different types of memory cards, including SD, SD (HC), TF, Micro SD, and MMC
For the USA: Order Here
And that's all. Which Android tablet accessories did you like? Tell us in the comments below. Stay and connect with us for the latest updates.
Relevant: