Last Updated on April 19, 2021 by Bestusefultips
Annoying by suddenly Pixel 5 screen unresponsive or frozen? Check out these possible solutions to fix unresponsive touch screen on Google Pixel 5/Pixel 4a 5G. There are multiple reasons for the touch screen stops working or screen not responding on Pixel like app glitches, viruses, and other issues. You can apply the below settings when shows dead pixels, flickers, and stays blank screen.
Read Also:
How to Fix Pixel 5 Touch Screen Issues
Apply the below-given troubleshooting methods to fix Google Pixel 5 screen not responding problem.
Reboot your Pixel
Long press your phone's power button until your phone restarts.
Check Boot into Safe Mode
Step 1: Long press the Power button and tap the Power icon at the top.
Step 2: Tap & hold the Power off.
Step 3: You can see Reboot to safe mode. Tap OK.
If your screen works in safe mode, a third-party app is causing the issue in your device. Restart your phone to disable safe mode. Now, uninstall the downloaded apps one by one. Once you delete the app that's causing the issue, re-install the other apps.
If your screen doesn't work in safe mode, apply the below-given method.
Factory Reset your Pixel 5 Using Recovery Mode
Step 1: Press & hold the power button and volume down button for 10 seconds and release it when you see the Start menu.
If you can see the start menu, then follow the below-given steps.
Step 2: Press the volume down key until highlight Recovery Mode.
Step 3: Press the Power key once.
Step 4: Now, No command message display on the screen.
Step 5: Press & hold the power key, and still press the volume up key once only.
Now, Android recovery screen menu shows.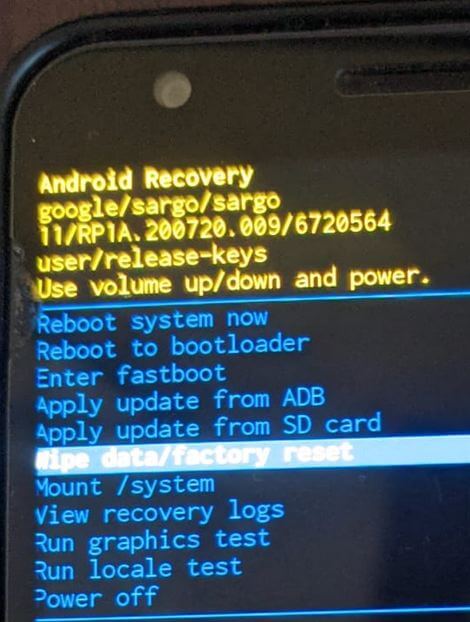 Step 6: Press the volume down key until highlight Wipe data/factory reset.
Step 7: Press the Power button once.
This message appears: Wipe all user data?
Step 8: Press the volume down key to highlight Factory data reset.
Step 9: Press the Power key to reset your Pixel.
Step 10: Press the Power key reboot system now.
After restart, check touchscreen is still unresponsive.
Do you still have touchscreen issues with your Pixel phone? Tell us in below comment box.