Last Updated on March 7, 2021 by Bestusefultips
Forgot Instagram password on Android devices? Here's how to reset Instagram password using Facebook account if you have forgotten a password. It's easy to change the Instagram password on your android if you have already know the current password. Also, use your email address to reset the password on Instagram Android. Using Instagram account settings, you can also change or edit profile name, website name, and description.
In your PC devices, you can reset your password using your Instagram username or the email address linked to your Instagram account. On Instagram, only people you approve can see your photos, videos and other your share details. But in this tutorial, I will show you steps to change Instagram password android phone or tablet device.
Read Also:
How To Reset Instagram Password on Android Device Using Current Password
Step 1: Log in your Instagram account with your Facebook ID.
Step 2: Tap on the "profile" icon from below the right side corner.
You can see your Instagram account details.
Step 3: Tap on "Three vertical dots" from top of the right side corner.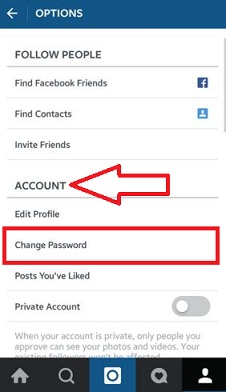 Step 4: Under Account section, tap on "change password".
You can see the below screen on your device.
Step 5: Enter current password, new password and again enter a new password in the below-given type of screen on your android device
Step 6: Click on the "right arrow" icon from the top right side corner.
That's it. Now change Instagram password android phone or tablet devices. Now logout account and log in with a new Instagram password. It's simple to change the Instagram password on android if password known. If you forgot password then reset it using your Facebook account or email address linked with an Instagram account.
Change Instagram Password Without Old Password Using Facebook Account on Android
Step 1: Log in to your Facebook account to connect to Instagram
This pop-up message appears on the screen: Instagram would like to access your Facebook account 
Step 2: Tap Continue as
Step 3: Enter your New Password twice and tap Right arrow icon at the top right corner
This pop-up appears to show: Remember Login Info
It will remember the login info for your Instagram account. You won't need to enter it when you log in again.
Step 4: Choose from Not Now or Save Password to automatically log in the Instagram account
Step 5: You can see your Sign-in Instagram account on your android devices
Did you find the above process to change Instagram password android phone helpful? Don't hesitate to let me know in the below comment box. It would be a pleasure to help you. Don't forget to share this Instagram trick with your friends!