Google Assistant feature helps user to find quickly solution of your question. After enabled Google assistant in nougat device, you can customize Google Assistant settings of all your devices. You can adjust home control, news, my day, shopping list, screen context, OK Google detection, voice and other important feature in android device.
Also control data use by your assistant and manage personal information such as nickname, addresses and preferences in your android nougat 7.0 & 7.1 devices. Below you can see complete details of how to customize Google assistant settings on your android device such as Moto G4 plus, Nexus 6P/6, LG V20, Samsung galaxy S7 & S7 edge etc.
Related Article: 7 best Google Assistant tricks and tips you should know
How to customize Google Assistant settings on Pixel & Pixel XL
You can adjust Google Assistant settings using below 2 methods.
1st Way: Customize Google Assistant settings using home screen
Step 1: Tap & hold the home screen button on your device screen (From any screen)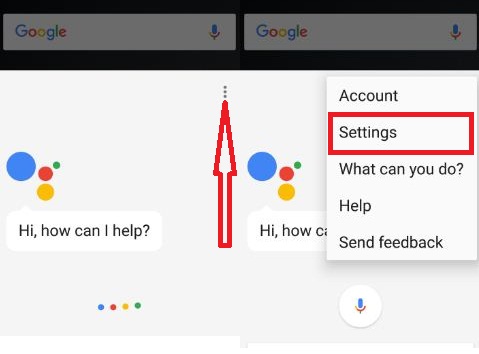 Step 2: Tap "More" button & Touch "Settings"
Here you can adjust settings of your Google assistant such as home control, news, my day, shopping list, screen context and other.
2nd Way: Adjust Google Assistant settings using Google app
Step 1: Go to "Settings"
Step 2: Under personal section, tap on "Google"
Step 3: Tap "Search" in services
Step 4: Touch "Settings" in Google Assistant
Below you can see details of Google assistant settings in your android nougat 7.0 devices.
1st: Adjust settings for all your Google Assistant device
Home control:
Using this you can control you added device such as Nest, Philips Hue, Honeywell, WeMo etc. You can also manage account settings using home control settings.
News:
Simple Launch the Google assistant and say latest news about Google Pixel XL & Pixel device, you can see the source related with your questions. You can customize news, technology, business, sports, science, health, art & life style and world related news channels source such as WSJ, CNN News, Bloomberg best, New York Times – The daily, Time's the brief, TechCrunch, Mashable Tech, Gizmodo, HuffPost Business & tech, ESPN sports, BBC Global news, The Washington post etc.
My Day:
Simple launch the Google assistant and say "tell me about my day". Now assistant will show you weather temperature units in Fahrenheit (Also set Celsius), your home and work address if added, next meeting date and other reminders you set.
Also change settings of my day summary ends with news of your favorite channel, you can customize it.
Shopping list:
Add list of items you want need, whenever you are going to shopping check the added list item.
2nd: Adjust settings for this device
Google Assistant:
Enable / disable Google assistant in moto G4 plus and other device.
Use screen context in nougat phone:
Enable screen context in nougat device to Google show your details of your device screen when you hold the home button or search by Google voice button.
Assistant language: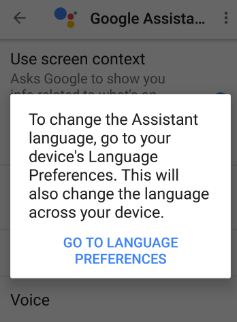 Change the assistant language in pixel and pixel XL device. By default set English (US) as assistant language.
Tap & hold home screen button > More > Settings > Adjust settings for this device > Assistant language
"Ok Google" detection:
In this Google assistant setting, you can enable Ok Google any time that recognize your voice even if the lock device or open any apps in your android device.
Also enable trusted voice, it will unlock your android phone when you say "Ok Google". If your voice not matches then not unlock device.
By default enable assistant driving feature that useful to find location using Google Maps when driving car / bike and other vehicle.
You can retrain Ok Google voice model and delete Ok Google voice model using this assistant settings.
3rd: Google Account settings
Personal information:
Add home & work locations, add nickname that the assistant call you, set weather temperature units preferences as Fahrenheit / Celsius and add email updates that connected with latest news and features related with Google Assistant.
My Activity:
Control source related by your Assistant.
End the list of Google Assistant settings. If you find above article helpful, don't forget to share with your friends on social network.