Last Updated on August 7, 2020 by Bestusefultips
How to clear the cache on Android 5.1.1 devices. When suddenly app not working properly or hang the app then you can clear the app cache of this particular app and operate it again simply and easily. Also, uninstall the app and again install on your Android Lollipop 5.1.1 devices but it takes a long time to do it. When clear cache on your Android device or browser all search data of your device or browser remove from it. And helpful to operate your app or device smoothly and fastly after a clear device or app cache on your device. Also, clear data that will be deleted particular application's data permanently including files, accounts, data, settings, etc. You can also clear cookies and history on your Android Lollipop 5.1.1 and KitKat 4.1 devices.
Read Also: How to block app notifications in Android Lollipop 5.1.1
How to Clear Cache Android Phone or Tablet
Step 1: Open the "Settings" app on your Android Lollipop 5.1.1 devices.
Step 2: Under the device section, tap on "Application".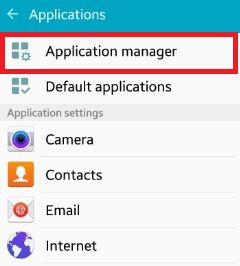 Step 3: Tap on "Application manager".
You can see all your Android device applications.
Step 4: Tap on any apps that want to clear cache from your device.
You can see the below screen on your Android mobile or tablet devices.
Step 5: Click on the "CLEAR CACHE" button.
That's it. After clear app cache and app data on your Android device, that app settings set the factory version. You can easily access it without any issue.
Did you find the above steps useful to clear the cache Android phone? Don't hesitate to let me know in the below comment box. It would be a pleasure to help you. Don't forget to share this trick with your friends on social sites.