Last Updated on March 7, 2021 by Bestusefultips
Few days ago i have updated my android lollipop (5.1.1) to marshmallow (android 6.0). In latest marshmallow device there are several new features including such as smart alert, easy mute, smart lock password, reduce screen size option under advanced features etc. It's simple to reduce screen size android phone. You can reduce screen size to control your device easily with one hand by quickly pressing the home key three times to reduce the size of your android lollipop and marshmallow devices.
Using this one handed operation feature, adjust the screen size and layout for easy controlling of your device with one hand. In the advanced features also adjust the size and position of the keyboard and other input methods for easier input with one hand. Follow below given steps to reduce screen size android phone or android tablet.
Read Also:
How to change app icon size in Galaxy Note 10
How to enable one handed mode in Android 5.1.1
How to hide lock screen notifications on android phone
How to reduce screen size android marshmallow 6.0, lollipop 5.1.1
Step 1: Open "Settings" app on your android phone or tablet
Step 2: Tap on "advanced features"
Step 3: Click on "One-handed" operation
By default reduce screen size feature is turn off on your android device
Step 4: Turn on toggle button of "Reduce screen size"
Step 5: "Quickly pressing home key three times" to reduce screen size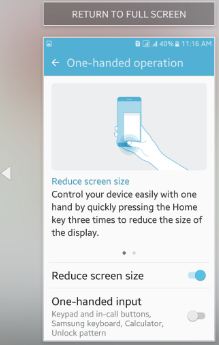 After follow above given step reduce screen size of the display on your android lollipop and marshmallow devices. You can see above screen on your smartphone.
When you have go back to your phone original screen size then click on "Return to full screen" option above from your reduce size screen screen. That's it.
Above you can see the easy steps to reduce screen size android phone or tablet device. If you are facing any problem then just comment on below box, would be a pleasure to help you. Connect with us for daily updates!