Last Updated on
Launchers are the core part of the Android device. We have listed the top best free Android launchers 2020. which is useful to solid choice for your device. These best Android launcher apps are best to customize your smartphone home screen, app drawer, improved widget drawer. Also useful to change the background wallpaper and drawer tabs color, font style & size, icon pack, hide app, lock app, and other great features. In the iOS device, you can change only icon positions they provide locked interfaces to user And in Android devices, you can change display settings with different launchers. Android devices can be provided in play store different types and featured launcher application to change own device look and feel.
You can see high rated and best reviews android launcher apps 2020 including Google now, Nova, Go launcher, APUS, Apex, Smart launcher 5, Solo, 3D launcher, Hola, and more. You can find the best launchers for your Samsung Galaxy, Mi, Pixel, Poco, and other brands.
Read Also:
Best Free Android Launcher Apps 2020
Here are the 14 best android launcher apps for Android.
Nova Launcher – Fastest Android Launcher

Nova has mostly used applications in launcher apps in android devices. They provide the most powerful, customized, and user interactive launcher screen that can be replacing the home screen in the Android mobile screen. Nova enhances user-friendly and faster android launcher app. Nova provides some features for users like customized icon theme, app drawer, speed control for animation, import layout, smooth touch, amazing snap icons & widgets, and different page effects. You can use hide apps, custom drawer groups, various scroll effects, and other features to purchasing it. This is one of the most useful android launcher apps in 2020.
Go Launcher – Best Android Launchers Rating

Go launcher app contains 17 different effects of magic slide, 25+ screen animation effects, 15+ free app widget, 1000+ specially designed theme, clean up redundant programs to fast and smooth mobile response speed, and more. This is the perfect launcher app for Samsung Galaxy S6 Edge & S6 Edge plus to looks your device smarter and stylish.
Apus Launcher
This Apus launcher app is perfect for personalizing home screen with elegant wallpapers, HD icons, and themes, fast & quickly find apps. Also useful for extend battery life up to 25%, user-friendly design, close unnecessary background apps, and clean RAM. This is one of the best android launcher apps for android phone or tablet.
Microsoft Launcher
The Microsoft launcher is an endlessly customizable, expandable dock option, fully customize app icons and a lot more features. Microsoft can integrate with its own services such as calendar, skype, outlook, TODO, etc. Microsoft offers the best speed launcher also giving options to remove transactions or animations. Microsoft launcher provides the best home screen experience and gives a transition between android mobile to PC.
Smart Launcher 5

Excellent features including quick access or search apps, contacts & web, automatically sorted apps list by categories hide apps, highly personalizable with themes & lock screen. This android launcher app is compatible with tablets, phones, and Google TV.
XOS Launcher(2020)- Customized,Cool,Stylish
XOS launcher gives the best user-friendly experience to user. They provide to give a user to customize everything that you want to change in your own home screen. Features like Rolling effect, animation, font, style, theme, smart launcher in the 2020 year.
POCO Launcher 2.0

POCO is the global best smartphone launcher introducing in the market with the Pocophone F1 budget with most featured specifications. This launcher used efficient and simplicity has been launched in application to play store. POCO is the fastest and light-weighted launcher designed on the Android home screen. POCO is highly customized, performance, best wallpaper images, animation, or transaction.
HiOS Launcher (2020)- Fast, Smooth, Stabilize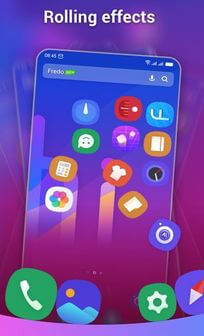 HiOS launcher launch app in play store with faster performance and light-weighted theme, images, wallpapers, animation with a smooth transition. It is giving control to user-customized configuration icon, font, effect, lights, etc featured available.
Evie Launcher
Evie launcher provides a slew of customizations and a simpler look experience. Evie launcher is one option to give choice for app column and width of the app. It is focused on simplicity means that this is one of the simplest and fastest launchers around, and among the navigate for those who don't wish to do a lot of setups. This is a very good option for those looking to dip Universal search and Custom Shortcuts.
Win 10 Launcher
Win 10 can provide windows 10 launcher apps on a smart android phone. Sometimes people can board using the Android theme and interface so this application can change your mood and give you the happiness to download this app and use different user experiences using win 10 launchers. They give you the best look and feel with customize icon and clean and energy-efficient launcher.
Q Launcher for Q 10.0 launcher: Android 10

This application most the latest and trending android version 10 Q launcher using in your android phone. This launcher can install all 4.4 above in the latest smart android devices. This launcher gives the best and latest launcher feature to users and best looks and feels on the theme android home screen. Features like Torch, Cleaner, Battery saver, Storage manager, Favorite, Unread counter for SMS, Gestures support, and Hide status bar.
Pie Launcher

Pie is the latest version in the android device is provides you many useful features to make your phone modern, cool, updated in android 9/10 launcher. It is the first application to launch a Pie launcher in the 2020 year. They give users the best friendly environment and interactive look to user launch in there own android devices. It can provide different features to comparing other apps like, hide unused apps, notification dots, gestures, etc.
Pixel Launcher
Easily customize home screen clean and fast, quickly access all apps from the home screen and voice search features to send a text message, get direction, play a song, and more. Also, customize the app list and fast scrolling. Best for all Pixel devices such as Google Pixel, Pixel XL, Pixel 2, Pixel 2 XL, Pixel 3 XL, Pixel 3a, 3a XL, Pixel 4, Pixel 4 XL, etc.
Best 3D Launcher For Android – Perfect 3D Live Launcher
In this launcher name can be provided there work like 3D, this application launcher gives the best 3D effect latest launchers with best graphics and animations to make your phone more latest and amazing look and feel. The 3D launcher provides the best animation, images, graphics, live wallpaper, 3D effects, and design display.
MiX Launcher V2 for Mi Launcher (No Ad)
This application is inspired by MI 11 Launcher. It provides daily useful featured themes, images, wallpapers, gestures, hides apps, and also give kids mode. This launcher provides the best GUI look in the home launcher page with user interface and different features.
This application provides its own different features and gives the best user-friendly environment, user experience, and best look and feel design home screen. I hope we help you to find the best Android launcher apps for your Android phone. If you have any questions please share it with us.