Last Updated on March 7, 2021 by Bestusefultips
Want to use Samsung Note 10 motions and gestures? Here's how to enable and use gestures Galaxy Note 10 plus. You can see several useful gestures including smart stay, smart alert, one-handed mode, palm swipe to capture, lift to wake and more. Samsung Note 10 S Pen also includes Air gesture to capture photos, switch camera mode, move photos, zoom in or zoom out photos and more. Also, enable full-screen gesture to hide the navigation bar button from your screen.
You can use gestures on Samsung Note 10+ to quickly capture a screenshot using palm swipe, mute incoming calls & alarms, vibrate device, screen on while looking it, turn on screen when picking up phone and more. Follow the below-given step by step process to use galaxy Note 10 plus gestures.
Read Also:
How to Enable and Use Samsung Note 10 Plus Gestures and Motions
You can enable gestures in Samsung Galaxy Note 10 plus using below given settings.
Step 1: Swipe up from the home screen to open the app drawer in your Note 10 plus.
Step 2: Tap Settings gear icon.
Step 3: Tap on Advanced features.
Step 4: Tap on Motion and gestures.
Below given Samsung Note 10+ Gestures available in your device.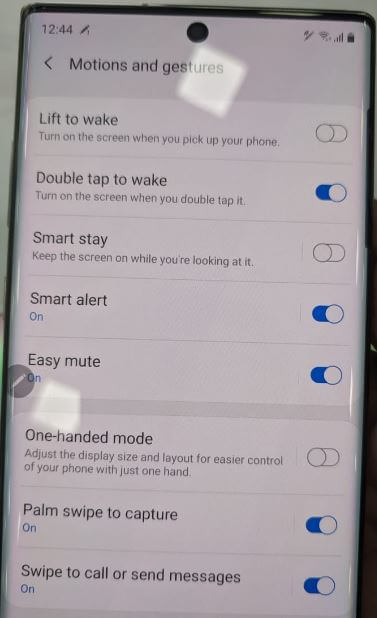 Lift to wake
To use this gesture, you need to enable lift to wake to turn on the screen when you pick up your Samsung Note 10 plus and Note 10 device.
Double tap to wake
Double tap on the screen when it turns off, it will wake up the screen on your phone.
Smart stay
This will keep the screen on while you're looking at it by using the front camera to detect your face in Note 10 plus.
Smart Alert
Your phone will vibrate when you pick it up after missing calls or receiving messages. Enable it to use on your phone.
Easy Mute
Mute incoming calls and alarms by putting your hand over the screen or turning your phone face down.
One-handed mode
Enable one-handed mode in Samsung Galaxy Note 10+ and Note 10. It will reduce the screen size to easily use your device using one hand. You can use gestures or buttons to reduce the screen size. Swipe up diagonally from either bottom corner or press the home button 3 times quickly.
Palm swipe to capture
Turn on palm swipe to capture on galaxy Note 10 plus to take a screenshot by swiping the edge of your hand across the screen. This gesture can't be used while the keyboard is shown.
Swipe to call or send messages
Swipe a contact or number right to make a call or left to send a message in phone or contacts. You need to enable swipe to call or send messages in Note 10 plus and Note 10 to use it.
And that's it. I hope the above-given tutorial useful to enable and use Galaxy Note 10 plus gestures and motions. If you have any questions, tell us in below comment box. Stay and connect with us for the latest updates.