Last Updated on May 9, 2023 by Bestusefultips
Do you want to switch from 5G to 4G on Samsung Galaxy devices? Here's how to turn off 5G on Samsung S23, S23 Plus, and S23 Ultra (Compatible with Samsung S22 and Samsung S21 series). Using a 5G network, you can quickly download and upload data, faster streaming without buffering, and have better connectivity. But several users face calling problems, no internet access even enabled mobile data, or network issues while using 5G. Also, 5G uses higher frequency bands that use more data. Let's see how to turn on/disable 5G on Samsung One UI (5.1) devices.
Read More: How to Power Off Samsung Galaxy
How to Turn On/Turn Off 5G Samsung Phone and Tablet
By default, automatically set 5G when your carrier support on your Samsung phone. You can disable 5G on a Samsung phone using the below-given settings.
Step 1: Swipe down the notification panel twice at the top and tap the Settings gear icon.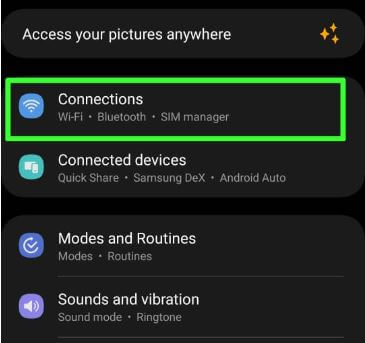 Step 2: Tap on Connections.
Step 3: Tap the Mobile networks.
Step 4: Tap the Network mode.
If you enabled 5G, you could see 5G/LTE/3G/2G (Auto connect) in your device.
Step 5: Choose the LTE/3G/2G.
How to Turn Off 5G on Android 13
Follow the below steps to turn 5G off on your Android 13 stock OS devices.
Step 1: Go to Settings.
Step 2: Tap Network & Internet.
Step 3: Tap SIMs.
Step 4: Scroll down and tap on Preferred network type.
Step 5: Choose LTE.
Related:
How to Enable 5G on Samsung One UI (5.1)
To turn on the 5G connection on your Samsung One UI (5.1), go to Settings > Connections > Mobile networks > Network mode > Choose 5G/LTE/3G/2G (Auto connect).
How to Turn Off Data Roaming on Samsung Phone
Settings > Connections > Mobile networks > Toggle off Data roaming
FAQs:
Why does 5G not working on my Samsung?
If you're Samsung phone not working with 5G, ensure your phone is 5G compatible. Make sure your carrier has a 5G network in your area. If your carrier doesn't support 5G in your place (Area), you won't be able to use it even if your phone supports the 5G connection. Check your network mode is set as 5G. Try to reset network settings to reset all network settings on your phone. If you still face 5G problems, please contact your SIM provider or Samsung support team.
What Does LTE Meaning?
LTE stands for long-term evolution, a standard for wireless broadband communication for smartphones and data terminals. LTE is a 4G (fourth generation) wireless technology that provides faster data transfer and better network performance compared to previous technology.
And that's all. Do you still have any questions about turning off 5G on Samsung Phones? Tell us in below comment section.