Simple and easy ways to delete or deactivate facebook account in android app without permanently delete. You can temporarily deactivate or automatically reactivate your account in 1 to 7 days. Facebook is one of the most use instant messaging apps on a smartphone such as Android, iPhone, Blackberry and more. Using this android app for facebook, you can stay in touch with your friends and family.
To deactivating your facebook account will disable your profile and remove your name and photo from most things you've shared on Facebook. Some of the information may still be visible to others, such as your name in their friend's list and messages you sent. Also, delete all facebook pages and groups created by you. Follow below-given steps to deactivate Facebook account in Android app.
You might like this:
How to change Facebook cover photo Android
How to disable WhatsApp group notifications in Android 8 Oreo
How to change facebook password using android app
How to deactivate Facebook account in Android app
Step 1: Open Facebook app in your android phone or tablet & log in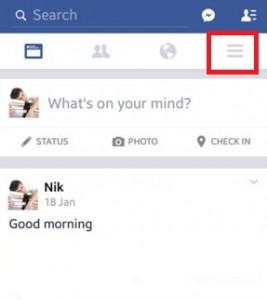 Step 2: Tap on three horizontal line
Step 3: Under the help & settings category, tap on Account Settings
Step 4: Tap on Security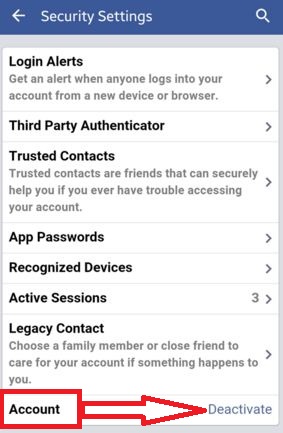 Step 5: Tap on Deactivate
When you tap on deactivate, you can see this message: For your security, please re-enter your password to continue
Step 6: Enter facebook login password in-box & tap on Continue
Now you can see the message of: Are you sure you want to deactivate your account?
Step 7: Choose from the given options to let us know why you are deactivating facebook account
Step 8: Tap on Deactivate
You can see the above screen on your android mobile or tablet. Now deactivate facebook account in android app.
You can set automatically reactivate facebook account in 1 to 7 days. Also, reactivate facebook account in android at any time by logging in with your email and password.
Did you find the above process to deactivate facebook account in android app useful? If you're having problems implementing this, don't hesitate to let me know on the below comment box and connect with us for daily updates!