Last Updated on March 7, 2021 by Bestusefultips
Are you interested to create photo album android phone? It's the right place for you to learn the process to make photo album android smartphone. You can create elegant photo album on your android device from choosing your different favorite photos from your device gallery images. In latest android lollipop (5.1.1) and marshmallow device gallery is different category wise photo section such as time, album, events and categories. In categories section, you can see images, video, selfie, people and scenery option.
It is quiet easy to create event or photo album android mobile. You can also edit, share created photo album with your friends or family member and social networks as well. Also use animation movement effect in your beautiful album. Follow below given steps to create photo album android phone or tablet device.
Read Also:
How to make AR Emoji Samsung Note 10 Plus and Note 10
How to create animation with photos on Google Pixel and Pixel XL 
How to save facebook photos android device
How to create photo album Android phone 5.1.1
Step 1: Open "Gallery" app on your android lollipop 5.1.1 and marshmallow android 6.0 device
Step 2: Tap on top of the left side corner & select "Album"
Step 3: Tap on "More" from top right side of the corner
Step 4: Click on "Create album"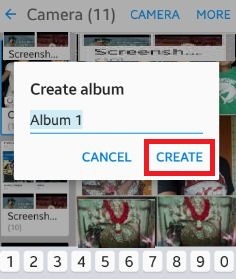 Step 5: Enter name of the "Album" and click on "Create"
Now choose your favorite photos from given list
Step 6: Tap on "Done" from top right side corner
You can see the message of: Copy or move selected images?
Step 7: Tap on "Copy"
Now tap on "album" you create from your phone gallery
Step 8: Tap on "More"
Step 9: Click on "Slideshow"
You can see the slideshow of your selected photos album on your android phone device. That's all.
After created album, you can edit, share, animate and collage on your photo album.
Back up photos & videos on Google Pixel & Pixel XL
By default camera folder is automatically backed up. Choose other folders to back up from Raw, WhatsApp images, WhatsApp video, image, Screenshots, and more.
Open Google photo app > Tap three horizontal lines (More) at upper left corner of the screen > Settings > Back up & Sync > Back up device folders > Turn on toggle you want to automatically backed up
Read Also:
How to send GIFs in WhatsApp Android
How to send picture message (MMS) from Galaxy S9 & S9 Plus 
How to find calendar events Android phone 
Send GIFs with Google Keyboard on Android device
Step 1: Open Gboard app in your nougat 7.1.2
Step 2: Tap on Emoji icon on bottom left side
Step 3: Tap GIF at bottom side screen
Step 4: Type Search GIFs and tap on search button
Now tap a GIF category in your phone.
Step 5: Tap GIF
Step 6: Press Send button
That's it. You can easily send emoji and GIFs on android device.
Above you can find simple and better way to create photo album android phone. Did you find above process helpful? Don't hesitate to let me know below comment box, would be pleasure to help you. Don't forget to share this trick with your friends on social network!!