Last Updated on March 7, 2021 by Bestusefultips
Change Samsung default theme on Samsung Galaxy A50? Here's how to change Samsung A50 theme. By default set Samsung theme on all devices. You can change themes on Galaxy A50 using wallpapers and themes settings. To set a new theme, Samsung galaxy theme downloads from the available list on your phone.
You will use third party launcher that supported your Samsung A50 such as Nova launcher, Action launcher, Go launcher, Holo launcher, and more. This third-party theme is useful to customize icons, unique style icon package, and more that will look your phone more attractive. Follow the below-given step by step process to change Samsung A50 theme.
Don't Miss This:
How To Change Theme On Samsung Galaxy A50, A70, A30, A20
You can change wallpapers, themes, icons and AOD wallpaper using below given display settings.
Step 1: Swipe up from the bottom of the screen and tap Settings gear icon
Step 2: Tap on Wallpapers and themes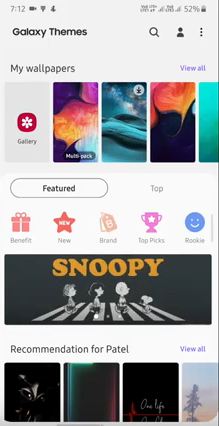 Step 3: Tap Themes from the bottom menu
You can see by default the Samsung A50 themes list.
Step 4: Tap View all
Now available recommendation theme, top theme, and more Samsung galaxy theme free download from galaxy store.
Step 5: Select a theme you want to download
Step 6: Tap Download
Wait until complete the downloading process.
Step 7: Tap Apply to install a theme on Samsung A50
Now change your Samsung galaxy A50 looks after setting a new theme. Also, use night mode to enable a dark theme on your Samsung A50 device.
Enable Dark Mode on Samsung Galaxy A50, A70, A90, A30 A20
You can set the Samsung A50 theme as a dark theme or light theme using night mode settings. When turning on night mode on A50, it will use a dark theme on your phone backgrounds to reduce eye strain at night and improve battery life in your Samsung devices.
Step 1: Go to settings in your Samsung A50
Step 2: Tap Display
Step 3: Tap Night Mode
Step 4: Turn on Night mode toggle
Now activate the dark themes in your Samsung Galaxy devices.
And that's all. We hope this makes it clear how to change theme on Samsung Galaxy A50. Do you still have any questions? Tell us in below comment box. Stay and connect with us for the latest updates.