Last Updated on August 8, 2022 by Bestusefultips
Whether you want to move files from one device to another, transferring data is always time-consuming, especially when you want to share large files. Moreover, another concern is transmitting the information securely without any limits or restrictions. Thankfully, all these issues can be avoided by simply using these best free Android apps for data transfer. Using these top 11 best file transfer apps for Android in 2023, you will not only allow instantly transferring but also to view and backup the data.
One of the more common things people need to do is transfer files from their mobile devices or tablet to their desktop PC. Often in college or university and also in our working place, we need to share essential files & apps. Sharing video files, photos, eBooks, PDFs, DOC, apps, and confidential information of any most important documents is shared in any form sometimes. But often, WiFi connection or mobile data is not available around us, so we cannot share files on any online medium. If you are facing such a situation often, I suggest you try a reliable file sharing app. Most of these apps are suitable for data sharing and for quickly sharing a bulk amount of files. So, I think some of your tasks or maybe easier using such an app.
Related:
Top 11 Best Data Transfer Apps 2023 For Android to PC, Android to Android

We've hand-picked free Android data transfer apps. There are quite a few ways to transfer files from Android to PC, Android to iPhone, or Android to Android, and we'll take a look at them here
Google Drive
There are various services to choose from for data transferring, including Dropbox, Google Drive, OneDrive, Box.com, and others. Google Drive can store your data in the cloud. And cloud storage is an excellent method to transfer files from Android phones anywhere or anytime. Transferring files is easy enough and secures your file. You can upload all your data files to cloud storage on one device. You then download it on another device and anytime. Most cloud storage apps have dedicated apps to save and share files.
Files by Google – Best File Transfer App For Offline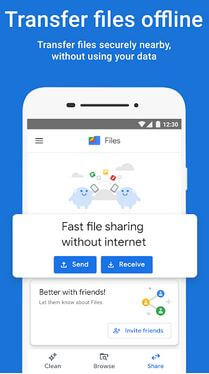 Google didn't miss launching its app in this criterion. If you are a great fan of Google apps, Files by Google is here. It is another helpful app that can do a lot besides letting you share the necessary file with your friends. The first thing I need to tell you is that it will always keep your device clean as it works as an effective file cleaning app. Besides, it will let you share files with multiple devices, and it doesn't take much time to do so. I think you should look at this app if you want a multitasking file sharing app. Use a file cleaning approach to keep your device junk-free and boost your phone's performance. It works as a better cloud storage app by saving all the files in your storage.
AirDroid – Transfer files from Android to PC/Mac OS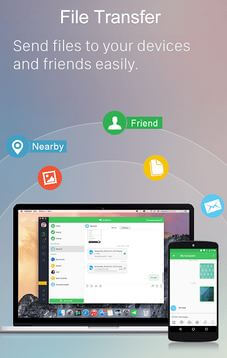 AirDroid is one of the more popular apps to transfer files from Android to PC or anywhere. It's not perfect, but it works well. This feature includes sending and receiving SMS/MMS from your PC, seeing your device notifications, and much more. It can also help you to find a lost phone, control the camera, and use apps. You'll also be able to transfer all your data files to your computer from your phone. You'll have to subscribe to this app service to get everything.
Zapya – Transfer Files to All Platforms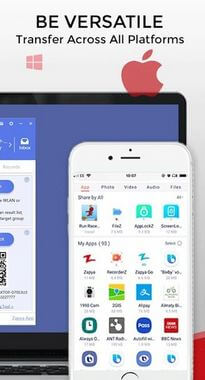 This android app is best for transferring data or files without a mobile data network or Wi-Fi connection. You can share or transfer files from phone to phone, smartphone to desktop, or PC or Mac without cables. This Android data-sharing app is also helpful for sharing music, photos, PDF files, and apps with unlimited file sizes.
Features:
Wireless unlimited sharing
Group sharing
Support multiple languages
Bluetooth File Transfer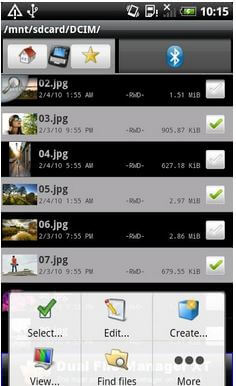 Bluetooth File Transfer is one of the most underestimated file transfer apps, but in reality, it comes with a fast inbuilt file browser and a clean User Interface. Using the Android Bluetooth File Transfer App, you can share files over a Bluetooth connection. All the files are transferred using a secure connection, as authorization of incoming connections is mandatory while using this app. You can also use the integrated browser to move, copy, cut, and delete items you want to and even zip and unzip files with encryption.
ApkShare Best Data Transfer App For Android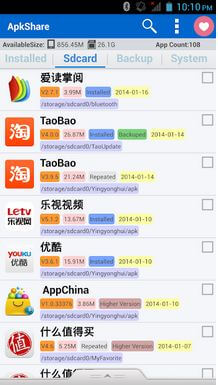 This Android app is #1 best for the backup file on an SD card or phone memory. You can install or uninstall various Android apps, back up, share, and the app's shortcut. You can send data & apps to your friends by Bluetooth, e-mail, etc.
Features:
Management software for managing app
Multiple languages support
Cleanup of app
Pushbullet App To Transfer SMS on PC
Pushbullet is one of the best apps for data transfer files from Android apps to want you need that data. It can do a bulk of data transfer using a simple android application. That includes sending and receiving SMS/MMS messages, sharing your clipboard between devices, checking notifications, and file transfers or sharing yours on your pc or other things.
Send Anywhere
Send Anywhere lets its users transfer the data with maximum protection with strong 256-bit encryption, which is why it is the favorite of most users. The app comes for free with in-app purchases but contains ads. It is a cross-platform and secure Android data transfer app that lets you transfer the data by entering a unique 6-digit code or by scanning the QR code to connect. You can share the data without the help of the internet and mobile data. The data can be shared with multiple people using a custom link.
Software Data Cable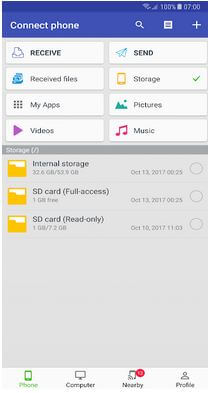 You can transfer data between all your devices and send music, photos, videos, and apps to other smartphones, desktops, tablets, etc. You can also send files to a computer without a USB data cable without an external network using these apps. This android data transfer app is also helpful in syncing folders to cloud storage such as Baidu, Microsoft Sky, etc.
Features:
An instant message between mobile & PC
Auto Sync photos & other files
Specially designed for family use
Transfer speed up to 300Mb/S
XShare Secure File Transfer App For Android
It is also a popular Android file transfer app for sharing files without an internet connection. In a concise time, this app has become one of the world's fastest file-sharing tools. This app includes a comprehensive user interface that lets you share almost all kinds of files in the blink of your eye. Besides, it won't ask to check your network or to connect a USB cable to share files with others. Just match the QR code with your Sharing partner and enjoy the fastest file-sharing system that will protect the original format of each file.
Which Android apps for data transfer or sharing would you prefer most for fast transfer? Above, you can download the best Android smartphone and tablet data transfer apps. Please comment below if you know of other useful Android data transfer apps for Android.