Last Updated on March 7, 2021 by Bestusefultips
Have you ever use Dolphin browser app on android phone? If not use, then check out this article to use Dolphin browser on Android phone. This android browser app has several best features including Ad blocker, gesture and sonar, manually install flash player on android, block pop-up windows and more features.
Most of the people use Google Chrome, Firefox, Opera and other browser in android devices. But using this Dolphin browser, you can use integration of Add-ons, private browsing, Mask user agent and also backup & restore data. Check out below given tricks to use Dolphin browser on Android or Google Pixel devices.
Read This: How to download GIF from Facebook in android
How to use Dolphin browser on Android phone
Let see top most best features of Dolphin browser for Google Pixel and other android devices.
Dolphin Flash Player
If you would like to enjoy videos without any interrupt, need to use flash player on your android devices. Dolphin browser is one of the perfect browsers which fully support flash player and also HTML 5 video player, fast loading speeds compare to other browsers and incognito browsing. Now enable flash player on Dolphin browser using below settings.
Step 1: Download Dolphin browser app from Google Play Store
Step 2: Open Dolphin app and tap on Dolphin icon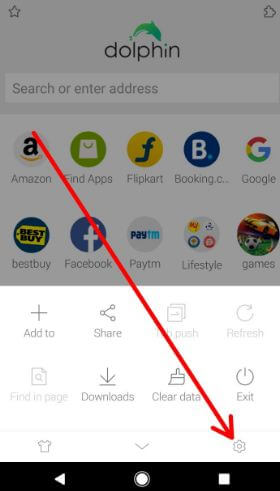 Step 3: Tap on settings gear icon
You can see flash player option under web content section. By default turn off flash player.
Step 4: Tap on flash player
Step 5: Choose always on from above given options
Dolphin Adblock:
This Adblock is one of the best features of Dolphin browser app. Most of all android devices, when open YouTube videos or playing games and suddenly show advertisement and it's annoying you. You can enable adblock on Google Pixel using Dolphin browser.
Enable adblock in Dolphin browser on android device
Step 1: Open Dolphin app and tap on Dolphin icon
Step 2: Tap on settings gear icon
By default disable adblock in your Dolphin browser.
Step 3: Enable adblock under basic section
Dolphin Gesture & Sonar:
Dolphin Gesture
In Dolphin gesture feature, you can type words to just drawing a gesture on the screen. To open or close tab, just swipe of finger and other gestures for YouTube, Facebook, Google etc. You can enter words without touching keyboard in your android devices.
Open Dolphin browser app > Dolphin icon > Settings > Basic > Gesture & Sonar
Dolphin Sonar
Dolphin sonar is one type of voice controller, just speaking you want search without surfing in your browser. You can open any website, make a call, find near restaurant and more functions using this app.
That's all. I hope you will enjoy how to use Dolphin browser on Android phone. Do let us know you liked this tutorial or not. Let us know your thoughts related Dolphin browser in below comment box.