Last Updated on March 7, 2021 by Bestusefultips
Here's how to set up a fingerprint on Android 7.1.2 Nougat devices. You can add or delete fingerprints on Android Nougat 7.0. Using a fingerprint sensor, you can secure your device, unlock your phone, purchase any apps or games from Google Play Store, and another payment method. Also, use other security options including screen lock, swipe, PIN number, Pattern Lock, and Password. Password or PIN is one of the strongest methods compare to use the fingerprint sensor or Face unlock on your latest android devices.
You can use fingerprints to purchase from the Google play store also. Let see steps to add or remove a fingerprint on Android 7.1.2 Nougat.
Read this:
How to Add a Fingerprint on Android 7.0 & 7.1 Nougat
Step 1: Tap on "apps" from the home screen on your Android 7.0 device.
Step 2: Go to "Settings" app.
You can see various sections.
Step 3: Tap on "Security" under personal section.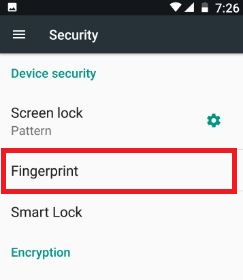 Step 4: Under the device security section, tap on "Fingerprint".
You can see two options, one continues and the other is canceled.
Step 5: Tap on "Continue".
You can see three different ways to back up the screen lock method.
Fingerprint + Pattern
Fingerprint + PIN
Fingerprint + Password
Step 6: Tap on Fingerprint + Pattern (Choose whatever option you set).
Step 7: Draw an unlock pattern & press continue.
Step 8: Draw the pattern again to confirm & press confirm.
You can see notifications options when your device is locked.
Step 9: Choose from the above-given option and Click on "Done".
Step 10: Now find the fingerprint sensor on your device.
In Moto G4 plus device, fingerprint sensor seen the bottom front of your phone.
Step 11: Click on "Next".
Step 12: Tap your finger a number of times to record your fingerprint in your android Nougat 7.0/7.1 devices & tap on "Next".
Step 13: Put your finger on the fingerprint sensor & Lift after you feel a vibration and again put it.
Continue this process vary slowly each time before the completed process, you can see below screen your smartphone after setting up a fingerprint sensor on Moto G4 plus and other devices.
Step 14: Tap on "Done".
To add another person's fingerprint, tap on the "Add another" option from the above-given screen.
Delete Fingerprint on Android 7.1.2 Nougat
Step 1: Go to Settings.
Step 2: Tap Security under the personal section.
Step 3: Tap Fingerprint.
Now, confirm your pattern or other lock screen security you set.
Step 4: Tap Delete.
How to Set Up Facial Recognition/Face Unlock on Android 8.0 Oreo

Settings > Security & location > Smart lock under device security > trusted face > Set up > Next > Hold the phone at eye level > Done

Let me know in the comment section if you have any questions about setting up fingerprint on android 7.0 Nougat devices. Feel free to share this android 7.1 Nougat trick with friends!