Last Updated on September 3, 2022 by Bestusefultips
Annoying by the Samsung phone keeps cutting out during calls or call ended problems on Samsung Galaxy S8 and Galaxy S8 Plus? Here's how to fix Samsung Galaxy S8 keeps dropping calls issues. A weak network signal is one of the most common reasons for dropping calls or can't hear a voice on calls. This issue occurs most in all carriers such as AT&T, Verizon Wireless, Sprint, and T-mobile. Some of the Samsung Galaxy S8 and S8 Plus are audio call issues. Possible solutions you should try are turning the Airplane mode on & off, turning off HD voice and video calling, setting the network to LTE/CDMA, etc. Other problems related to phone calls are can't to make or receive calls, can't ring the phone, No signal, a SIM card not being recognized, Poor calls sound quality, etc.
Why Does My Samsung Galaxy S8 Keep Dropping Calls?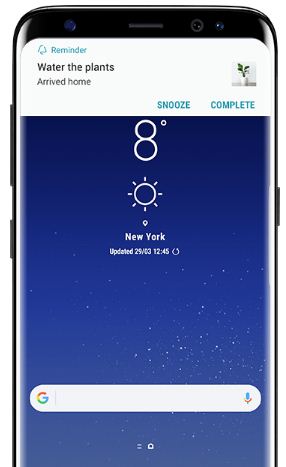 Check for Update Manually
Step 1: Go to Settings.
Step 2: Scroll down and tap on Software update.
Step 3: Tap on Download and install.
Turning Airplane Mode On & Off
If your Samsung device has a poor network signal issue, you need to swipe down the notification panel at the top and tap on Airplane mode in the quick settings tiles to turn it on. After 05-10 seconds, again tap on it to turn it off. Now, make a call and check to fix the problem.
You can check your phone network signal. If there is a weak network signal, find a nearby place with a good signal and prevent the call-dropping problem.
Turn Off HD Calling on Galaxy S8 & S8 Plus
Step 1: Go to Settings.
Step 2: Tap on Connections.
Step 3: Tap on Advanced calling.
Step 4: Tap on HD voice and video calling.
Step 5: Toggle off the Button and tap on OK.
Change Network to LTE/CDMA
Step 1: Go to Settings.
Step 2: Tap on Connections.
Step 3: Tap on the Mobile network.
Step 4: Tap on Preferred network mode.
Step 5: Choose network mode as LTE/CDMA.
Re-Insert SIM Card
Remove the SIM card and restart your phone. Now, re-insert the SIM card again and check if SIM is faulted.
Enable Safe Mode on Samsung S8/S8 Plus
Step 1: Long-press the Power button until Power Off appears on the screen.
Step 2: Tap and hold the Power off until viewing the Reboot to safe mode message on the screen.
Step 3: Tap on OK.
Suppose your Samsung is working without any problem in safe mode, which means a third-party app is causing the problem. Now, check call dropping issue occur in safe mode. Check for hardware issues if you still have a facing issue in safe mode. Restart your device to exit safe mode on Samsung device.
Reset Network Settings
It will reset network settings to factory default in your Samsung devices.
Step 1: Go to Settings.
Step 2: Scroll down and tap on General Management.
Step 3: Tap on Reset.
Step 4: Tap on Reset network settings.
Step 5: Tap on Reset settings.
Step 6: Tap on Reset.
Wipe Cache Partition
This Samsung wipe cache partition will fix several issues like your Samsung flakey, unresponsive touch-screen, frozen screen, etc. It will remove all unused cache of the system and apps that will enhance your phone performance and run faster.
Read Also:
Don't forget to mention which method worked for you to fix the Samsung Galaxy S8 call dropping problem. For more such Android tips, please stay connected with us via  Twitter and Facebook.