Last Updated on February 22, 2020 by Bestusefultips
Here's how to turn on email notifications for Gmail and Google Chrome browser. By default, disable or turn off Gmail notifications on your Android or Windows 10/8.1/7. When you get email notifications on your android, you can receive status bar notifications on the home screen when email arrives in your device. You can also set notifications ringtones and vibrations settings on your android device.
You cannot enable or disable individually emails notifications settings on your device but filter mail messages by starred, read, unread, or priority wise. It's quite easy to enable/disable email notifications of Gmail messages on Android phones & Chrome browser.
Read Also:
How to change Gmail app Notification SOund
How to remove Google Account From Android
How to turn on Gmail Sync Android phone
How to add an account to Gmail app on android device
How To Turn On Email Notifications Gmail Android & Chrome
Let see one by one to Turn on or Turn off Gmail notifications on Windows 10 Chrome browser and Android phone browser.
Enable Gmail Desktop Notifications on Google Chrome Browser
When turning on email notifications, it will allow Gmail to display popup notifications on your desktop when new email messages arrive.
Step 1: Open Google Chrome and Sign-in with your account
Step 2: Tap Settings gear icon and Select Settings
Step 3: Scroll down up to see Desktop notifications under General Tab
Here you can see three options to enable desktop notifications for Gmail.
Step 4: Choose from New mail notification on/Important mail notification on/Mail notification off (By default selected)
Enable or Disable Gmail Notifications on Android phone
Step 1: Log in your Gmail account on your android lollipop (5.1.1) and another device.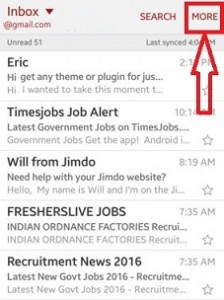 Step 2: Tap on "More" forms the top of the right side corner.
Step 3: Select "Settings".
Step 4: Under the general settings, tap on "Email notifications".
Step 5: Tap on "Gmail Account" want to enable email notifications android device
By default disabled email notifications of Google account.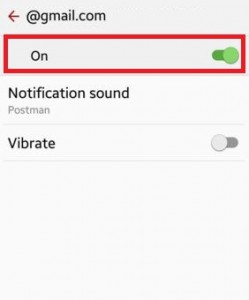 Step 6: Turn on the toggle button of email notifications
By default set the notification sound of incoming Gmail messages on your android device. You can change the default notification sound of email notifications of the Gmail account. Also, turn on or off the vibration settings of incoming email messages on your android lollipop 5.1.2, KitKat 4.2 and other android devices.
Did you find the above process to turn on email notifications Gmail android phone or tablet useful? Don't hesitate to let me know in below comment box. It would be a pleasure to help you and connect with us for daily latest updates.