Last Updated on May 28, 2020 by Bestusefultips
Want to divert calls to another phone on Android devices? Here's how to set or enable call forwarding in Android Lollipop 5.1.1, 6.0 Marshmallow, and KitKat 4.2 devices. You can set call forwarding & call redirecting on your android device using phone call settings. To adjust call settings such as call divert or call forwarding, you can set voice calls or video calls when busy, unanswered, unreachable, or out of the area and always forward any individual call. This enables call forwarding on Android 5.1.2 Lollipop is perfect to transfer your call to another phone number when you unreachable or out of the area.
Read Also:
How to Set Call Forwarding on Android Lollipop 5.1.2 and 6.0 Marshmallow

Step 1: Open the Phone app.
Step 2: Tap on More (Three vertical dots) in the top right side corner.
Step 3: Tap on "Settings".
Step 4: Tap on More settings under the call settings section.

If you have two SIM card then select SIM 1 or SIM 2.
Step 5: Tap on Call forwarding.
Step 6: Now tap on Voice call or video call.
After tap on any of the above option, you can see below options.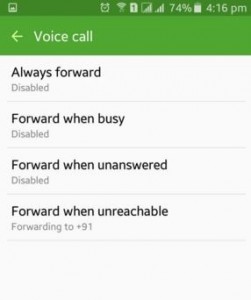 Always forward: Always use this number to call forward
Forward when busy: When you busy on the phone call then call forward to this entered number
Forward when unanswered: When you can't answer any individual person call then forward it this number
Forward when unreachable: When you out of coverage area then call forward to this number
Using the above solution, you can easily set a call to divert or adjust call settings on your Android 5.1.2 lollipop, KitKat 4.1, and Android 6.0 Marshmallow devices.
Read More:
How to Show or Hide Caller ID on Android Oreo 8.1 & 8.0

Phone app > Three vertical dots > Settings > Caller ID & Spam
I hope this tutorial is useful to set call forwarding on android lollipop phone and tablet. If you have any trouble, tell us in below comment box. Stay and connect with us for the latest updates.