Last Updated on
Here, you can check the step for how to hide default apps on android smartphones including Samsung Galaxy j7, Samsung galaxy j5, Samsung Galaxy S6, Samsung Galaxy S6 edge, HTC Desire, HTC Desire 826 and other latest lollipop version smartphones.
In the android phones, there are various default apps or games which are not mandatory or need so you can try to remove or hide this android app or game. You are not removing or hide any in-built or default apps in some of the android mobiles but in the latest lollipop version, you can follow the list of below few steps for easily hide default apps on android mobiles.
You May Like:
How to use app locker on OnePlus 5T
How to hide lock screen notifications Google Pixel and Pixel XL
How to change default apps in android Oreo 8.0 & 8.1
How to hide default apps on Android Smartphones: Remove / Change 
If you have disabled any unnecessary or hide default apps on android smartphones then follow the below-given step.
Step 1: Tap any default app and drag the app until you see the below screen
Step 2:  Now you can drag the default app on turn off symbol
Step 3: After that, you can see the disable app screen on your android phone
Step 4: Tap on Disable and now your default app is hidden/ disable on your smartphone
If you have disabled any useful app by mistake then don't worry in the latest android lollipop version you can easily enable and disable the app in just a few seconds. Follow the below steps to enable default apps on android smartphones.
Step 1:  Go to Settings
Step 2: Scroll until you see Applications on device section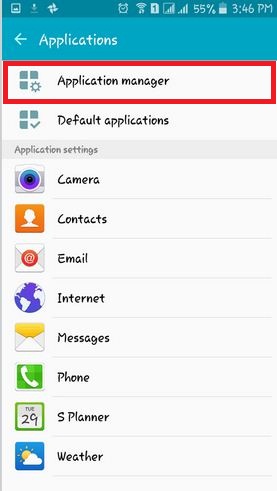 Step 3: Tap on the application manager under the applications section
Step 4: After step 3 you can see various options in the application manager, now you can go to disabled option in application manager
Step 5: Tap and hold any disabled app
Step 6: Click on Enable & your app is ready to use
Settings > Device > Applications > Application Manager > Tap on disabled app > Enable
Change default app for Android 10
You can change the default android 10 apps such as phone app, home app, SMS app, caller ID & Spam app, Browser app and Assist app. Apply below-given steps.
Settings > Apps & notifications > Advanced > Default apps > Select app from list > Choose app from list you want to set
This how-to hide default apps on android smartphone tips are easy to use and perfect working on the latest lollipop version android smartphones. If you have any queries related to this then please comment below.