Last Updated on March 7, 2021 by Bestusefultips
How do you Pin a screen on Android devices? Here's how to enable and pin apps in the Android Lollipop 5.1.1 device. Using this new feature of the "Pin Windows" android lollipop device, you can pin or lock a specific app on your android device. So you can not operate other functions such as calling, messaging, etc. So you can only access this pin app on your device.
These turn-on pin windows feature useful when playing games, when you give a device to other people, protect your private data such as photos, documents, etc. Follow the below-given steps to turn on Pin Windows Android 5.1.1 and 6.0 Marshmallow devices.
Also Read:
How to Enable Pin Windows Android Lollipop 5.1.1 and Marshmallow 6.0
Step 1: Open the "Settings" app on your Android Lollipop device.
Step 2: Tap on "Lock screen and security" under quick settings or Personal section.
Step 3: Tap on "Other security settings" under the security section.

Step 4: Scroll down and tap on "Pin windows" under the advanced section.

By default turned off or disable Pin windows.
Step 5: Turn on or Enable the Pin windows android device.
You can see the other option to "Ask for pattern before unpinning any app". To set it enables it.
How to Set Pin Apps on Android 5.1.1
Step 1: Open any App on your Lollipop 5.1.1 device that wants to pin.
Step 2: Tap on the "Recent" button.
You can see the below screen on your android phone or tablet device.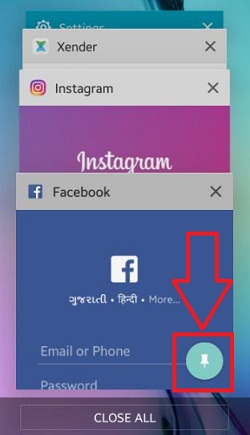 Step 3: Tap on the "Pin" icon.
Step 4:  Click on the "Start" button to pin this specific app.
After the app is pinned, no other apps notification and other functions work. Now, this particular application locks on the screen. You can use this specific pin app only.
Step 5: To unpin an app on your device, press, and hold the recent and back button at the same time.
Step 6: Now draw a pattern to unpin app on your android phone or tablet device if a set pattern.
This android lollipop device "Pin windows" feature is best to protect your important data from other users or friends.
Use Screen Pinning on Android Marshmallow 6.0
Settings > Lock screen & security > Other security settings under security > Pin windows under advanced > Enable/Disable pin windows
Turn On Screen Pinning on Android Nougat 7.0 & 7.1.2
Settings > Personal > Security > Advanced > Screen Pinning > Enable/Disable screen pinning
Did you find the above process to enable and use screen pinning on the Android device helpful? If you ave any questions regarding the above steps then share with us on the below comment box. It would be a pleasure to help you. Don't forget to share this trick with your friends!