Last Updated on July 27, 2020 by Bestusefultips
Here's how to view and clear Google Play store search history and Google play purchase history on Android phone or tablet device. You can search for apps, games, movies, books, news, and other entertainment apps on your Android device play store. Google stores all the words or topics you search in Google play store on your phone. Using search history, you can easily find your previous search words. It's simple to delete Google play search history on your Android devices. Also, enable/disable auto-update apps on your android device using Google play store settings.
Read Also:
How to Clear Google Play Store Search History on Android Phone or Tablet
Step 1: Open the App drawer in your Android devices.
Step 2: Tap on the "Play Store" app.
Step 3: Tap on "Three horizontal lines" at the top of the left corner.
Step 4: Scroll down until see "Settings" and tap on it.
You can see the below screen on your Android device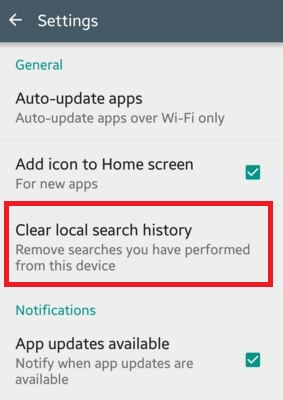 Step 5: Tap on the "Clear local search history" under the general section.

Now, remove all search you have searched on Google Play Store from this Android phone or tablet device. You can delete the local search history of your Google play store within a few minutes using the above simple steps on your Android device.
Read Also:
How to Delete Google Play Purchase History on Android
Open Play Store > Three horizontal lines at the top left corner > Accounts > Purchase history Tab > Clear Purchase history
How to Enable Biometric Authentication on Android 8.1 Oreo and 9 Pie for Google Play purchases
You can use Biometric authentication (Fingerprint security, Face recognition) on Android phones when you purchase from Google play stores such as apps, games, movies, books, and more. Also change settings for require authentication for purchases from For all purchases through Google Play, Every 30 minutes or Never.
App drawer > Play store > Three vertical dots (More) at upper left side corner > Settings > User controls > Biometric authentication
Did you find the above process to clear Google Play store search history Android phone or tablet? Don't hesitate to let me know in the below comment box. It would be a pleasure to help you. Don't forget to share this trick with your friends!