Last Updated on January 5, 2022 by Bestusefultips
Google assistant added a new useful feature called Continued Conversation. Let see how to enable or turn on continued conversation for Google Assistant Android. When we conversion with Google assistant, every time saying OK Google for attention. But this new Google assistant Continue Conversations feature is helpful to say Ok Google at once at the starting time when accessing Google assistant on your Android devices or Google Home. After staring at a conversation, you can talk normally and if you no longer speak, it'll automatically end the conversation. You don't need to say Ok Google or Hey Google again to talk with the assistant. You can use the Continued Conversations feature in your Google Home, Home Max, and Home Mini also.
Read Also:
How to Enable Continued Conversation For Google Assistant Android Phone
For Android 12 StocK OS
Open Google App > Profile icon at the top right corner > Settings > Google Assistant > Continued conversation under all settings section
Open Google Home app > Profile icon > Assistant settings > Continued conversation under all settings section
For Android 10/Android 11
Step 1: Long press the home button on your Android devices to access Google assistant (Show below screenshot).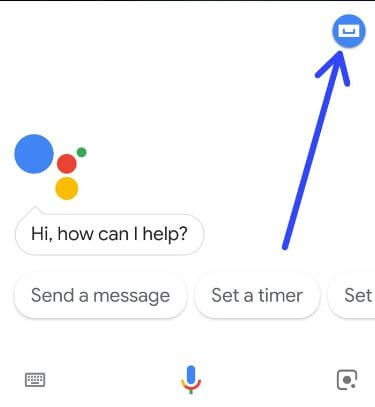 Step 2: Tap the Blue icon on a screen (See above screenshot).
Step 3: Tap Three vertical dots (Menu) at the upper right corner.
Step 4: Select Settings.
Step 5: Tap Preferences under the account section.
Step 6: Tap Continue conversation.
Here you'll change the voice of Google Assistant in your Android device or Google Home. By default turned off the continue conversation feature on your devices.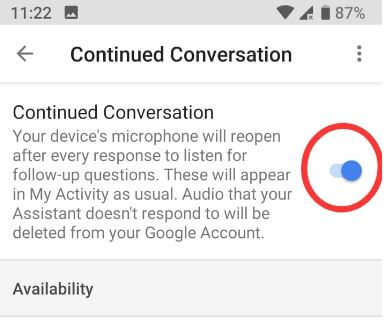 Step 7: Toggle on the Continue Conversation button.
It's quite easy to enable Google assistant's continued conversation feature.
How to Enable Google Home Continue Conversation on Android
You'll activate this new Google assistant feature on your Google Home to launch Google assistant settings.
Long pressing home button > Explore menu > Three vertical dots > Settings > Preferences > Continue conversation
And that's all. We hope this tutorial is helpful to enable continue conversations for Google assistant android devices. If you have any questions, tell us in below comment box.