Last Updated on March 7, 2021 by Bestusefultips
If in your android phone browsing data aren't syncing properly then you can fix Chrome sync errors android device using this chrome settings. Sometime on your phone browser data such as history, bookmarks or when web surfing data is having problem to syncing in smartphone. But you don't see the sync error message on your android lollipop 5.1.1 and marshmallow 6.0 device.
You can see different types of sync errors on your phone such as Sync service is not available, account does not work, could not connect with sync server, service is temporary not available and other types of errors. Sometime also see error message of outdated account sign-in, update your sync passphrase and sync feature is disable on your android phone. If you've log in your chrome browser and enable sync, you can see sync error notification on phone screen. Don't worry in this tutorial, i will show you troubleshooting steps to fix Chrome sync errors android phone.
Read this:
How to fix SSL connection error on Chrome browser
How to fix Google Chrome bookmarks not syncing issues
How to share multiple contacts on android phone
How to fix chrome sync errors android marshmallow & nougat 7.0
Step 1: Open "Chrome app" on your smartphone
Step 2: Tap on "three vertical dots" from top of the right side corner
Step 3: Tap on "Settings"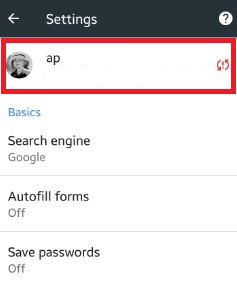 Step 4: Tap on account name
Step 5: Tap Sign out of Chrome
You can see below screen of "Sign out of Chrome?"
Step 6: Click on "Sign out" to confirm it
Step 7: Open "Settings" app on your device
You can see various sections under settings.
Step 8: Tap on "Applications"
Step 9: Tap on "Application manager"
Step 10: Click on "Chrome"
Step 11: Click on "Force stop" button
You can see this message on screen: If you force stop an app, it may cause errors.
Step 12: Tap on "Force stop"
Now open Chrome app on your android phone and sign in with your account.
If above guide don't works perfectly then check Google Chrome sync settings on your device.
Settings > Accounts > Google > Email address > Sync now
That's all. Above you can see the easy process to fix Chrome sync errors android phone. Did you find above steps helpful? If any problem occurs, let us know on below comment box, would be pleasure to help you.